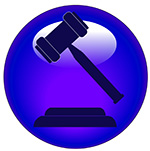 The Mock Trial Program is sponsored by the Constitutional Rights Foundation (CRF). Each year CRF creates a mock trial that addresses serious matters facing young people today. Each team works with teacher and attorney coaches to prepare their version of the criminal case, both from the prosecution and defense perspective. Students assume the roles of trial attorneys, pretrial motion attorneys, witnesses, clerks, and bailiffs.
Through these role-playing techniques, students learn about the content and
processes of law in an exciting and vibrant way. Also, by studying the case and preparing strategies and arguments for trial, students increase their public speaking skills, analytical ability and team cooperation. Some high schools offer the Mock Trial Program as a class rather than an extra-curricular activity.
Case Brief Downloads
Forms & Downloads
Links
Contact Information