A Vision of Health: Monte Vista Sports and Wellness Park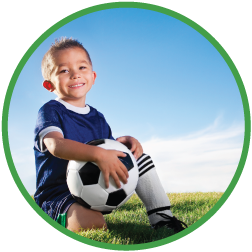 The mission and shared vision of the Imperial County Office of Education is to "improve the quality of life in our community by promoting strong families and students who are prepared for life, college, and career." No other project fits the opening idea of that mission—to improve the quality of life of our community—as well as the proposed Monte Vista Sports and Wellness Park.
Imagine, if you will, vast fields of green, tree-lined vistas, and hundreds, possibly thousands, of children and families together at any one time enjoying the outdoors, playing and watching soccer across half a dozen or more manicured fields surrounded by state-of-art facilities on 54 acres. Such a complex would be ripe for tournaments, community events, and simple strolls along designed walking paths that ring the boundaries of the park.
In 2020 and 2021, the Foundation for Education organized a series of community engagement meetings to get local residents' input on what they would like to see in the park. These meetings were instrumental in shaping the park's design.
The Monte Vista Sports and Wellness Park is intended for all, whether budding soccer stars, recreationalists, or community members just looking for a beautiful place to jog, take a stroll or kick around a ball with their kids.
Click here for the Monte Vista Sports and Wellness Park flyer.
For more information, or to learn how you can help get involved with this incredible opportunity for our community, contact:
Imperial County Office of Education
Office of the Superintendent
1398 Sperber Road
El Centro, CA 92243
Phone: (760) 312-6440
Email: montevistapark@icoe.org