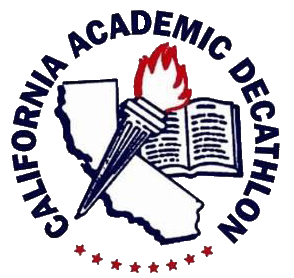 As part of National and State programs, the Imperial County Academic Decathlon is a competitive event for high school students aimed at encouraging and honoring scholastic accomplishments. The students compete as individuals and teams in a series of ten academic tests and demonstrations, including: art, economics, language and literature, mathematics, music, science, essay, interview, speech (prepared and impromptu) and SuperQuiz (a team-relay event). 
A complete team consists of nine full-time students, grades 9-12, with a maximum of three students in each of the following divisions:
| Student Divisions | Corresponding GPA | Number of Students |
| --- | --- | --- |
| Honors Students | 3.75 - 4.00 GPA | 2-3 Honors Students |
| Scholastic Students | 3.00 - 3.74 GPA | 2-3 Scholastic Students |
| Varsity Students | 2.99 GPA and Below | 2-3 Varsity Students |
Additional Guidelines
Contestants may compete in a higher division than their own GPA, but not in a lower division.
All team members participate in all 10 events.
Only six scores count for the final team standing in the competition - the top two Honors scores, the top two Scholastic scores and the top two Varsity scores.
Therefore, schools may enter with fewer than nine members and still be eligible for team awards as long as there are at least two Honor, Scholastic and Varsity members.
Forms and Downloads
External Links