Professional Learning Series
This schedule highlights services and professional learning opportunities for districts in relation to accountability, the LCAP process and the LCAP template.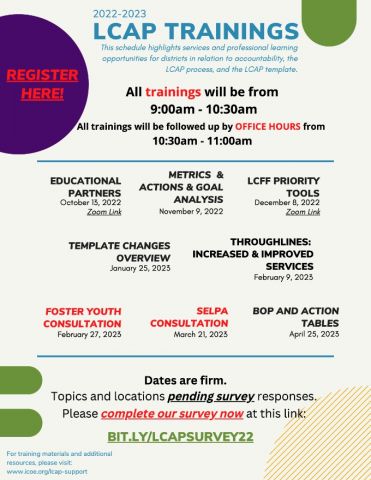 All trainings will be from 9:00 a.m. - 11:00 p.m.
All trainings will be followed up by office hours from 10:30 a.m. - 11:00 a.m.
At ICOE Main Campus - OGR (Building A)

Educational Partners
October 13th, 2022
Zoom link
Metrics & Actions & Goal Analysis
November 9th, 2022

LCFF Priority Tools
December 8th, 2022
Zoom link

Template Changes Overview
January 25th, 2023

Throughlines: Increased & Improved Services
February 9th, 2023

Foster Youth Consultation
February 27, 2023

SELPA Consultation
March 21st, 2023
BOP and Action Tables
April 25th, 2023
Please submit LCAPs for formal review at lcap@icoe.org.
Deadline to submit LCAP for review: May 15, 2023.