4-Day Professional Learning Series
This schedule highlights services and professional learning opportunities for districts in relation to accountability, the LCAP process and the LCAP template.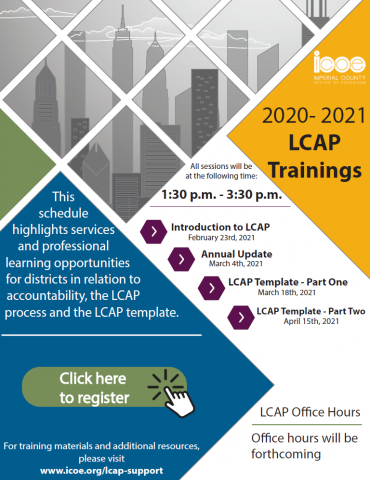 All sessions will be from 1:30 p.m. - 3:30 p.m.

Introduction to LCAP
February 23rd, 2021
Annual Update
March 4th, 2021

LCAP Template - Part One
March 18th, 2021

LCAP Template - Part Two
April 15th, 2021
Please submit LCAPs for formal review at lcap@icoe.org.
Deadline to submit LCAP for review: May 15, 2020.

Upcoming Webinars
January 26, 2021 at 2 p.m.
Stakeholders and the 2021-22 Local Control and Accountability Plan (LCAP) (1 hour)
January 28, 2021 at 3 p.m.
Data and the 2021-22 LCAP (1 hour)
February 2, 2021 at 2 p.m.
The LCAP and Annual Update Templates and Instructions for the 2021-22 School Year (1-1.5 hours)
February 4, 2021 at 3 p.m.
Digging Deeper: Developing Broad Goals for the 2021-22 LCAP (1 hour)
February 9, 2021 at 2 p.m.
Digging Deeper: Developing Focus Goals and Maintenance Goals for the 2021-22 LCAP (1 hour)
February 11, 2021 at 3 p.m.
The California School Dashboard Local Indicator Process for 2021-22 (1 hour)
Training Materials
December 15, 2020 - Revision of the Annual Update Template and Instructions for the 2021-22 Local Control and Accountability Plan Year - Version 2(PPTX)
November 10, 2020 - Supports for English Learners available through California's System of Support
October 27, 2020 - Revision of the Annual Update Template and Instructions for the 2021-22 Local Control and Accountability Plan Year(PDF)
September 22, 2020 - Budget Overview for Parents(PDF), Webinar recording (Video; 58:45)
September 8, 2020 - Proposed Changes to the Budget Overview for Parents(PPTX)
August 13, 2020 - Learning Continuity and Attendance Plan - Questions, Clarifications, and Answers(PPTX)
August 11, 2020 - Learning Continuity and Attendance Plan - Resources and Tools
August 6, 2020 - Developing the Learning Continuity and Attendance Plan(PPTX)
August 4, 2020 - Learning Continuity and Attendance Plan Instructions and Guidance Part II(PPTX)
July 28, 2020 - Learning Continuity and Attendance Plan Instructions and Guidance Part I(PPTX)
July 14, 2020 - Draft Learning Continuity and Attendance Plan Template
June 30, 2020 - Overview of Senate Bill 98(PDF)
Overview Comparison of the Learning Continuity and Attendance Plan and the Local Control and Accountability Plan(PDF)
May 19, 2020 - COVID-19 Operations Report and Local Indicators(PDF)
April 28, 2020 - Changes to the LCAP Process and Timelines - Executive Order N-56-20(PDF)
March 3, 2020 - LCAP Template: Plan Summary and Stakeholder Engagement
February 25, 2020 - LCAP Template: Increased or Improved Services
February 18, 2020 - LCAP Template: Goals and Actions(PDF)
January 28, 2020 - LCAP Template: Annual Update and eTemplate(PDF)
January 21, 2020 - Local Indicators(PDF)
January 14, 2020 - Local Control and Accountability Plan (LCAP) Template Overview(PDF)
For additional information, please visit: https://www.cde.ca.gov/fg/aa/lc/tuesdaysat2.asp