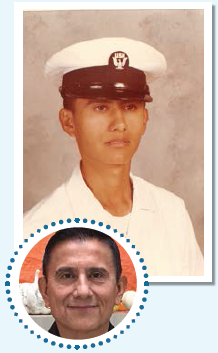 As a skinny 21-year-old in 1977, ICOE's Roy Aguilera enlisted in the U.S. Navy and served our country for the next four years. Serving as Radio Man at the height of the cold war, Roy was tasked with keeping communications flowing between ships and bases over the vast Pacific Ocean. Roy had requested to be stationed in Hawaii, but was sent to Adak, Alaska for 2 years. He did, however, get his island wish and spent his last two years of duty in Guam.

Raised in El Centro, Roy felt the pressure to get a job and provide for his family after high school. Joining the Navy at 21, Roy was more mature and responsible than the other recruits. As a result he was chosen by his boot camp Captain to be his company's Outstanding Recruit, an honor that surprised even his family.

Returning to Imperial Valley in 1980, Roy eventually found his purpose and calling in life with ICOE's Special Education program. The affable Navy Veteran is tasked with helping students with behavior problems in our classrooms as a Behavior Assistant at the Imperial Valley Center for Exceptional Children (IVCEC). Often being assigned to a student as a one-on-one assistant, Roy gets to see progress in children that others may miss. One touching story Roy shared was of a child that was acting out and was often disruptive. The student's disability was so severe that she was without communication – trapped in a world without being able to let others know what she wanted or how she was feeling. After weeks and months of consistent work, there was a break through. The student learned enough language to communicate at a basic level. For the first time ever, she could communicate that she wanted something to eat or go to the bathroom. Her family was ecstatic, and coincidently, the child's behavior problems went away completely. She could speak!

"This is my true calling" said Aguilera, "I love my job and want to work with these children for the rest of my life". When asked about what he's learned in the past 15 years working for ICOE, Roy commented that each student's needs are different, and as a result, the most important ingredients to his job are having a good measure of patience, love and compassion.  A good recipe for all of us!