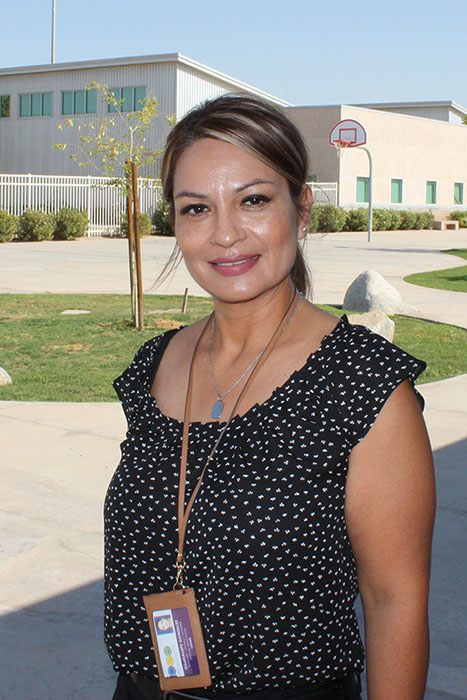 September 8, 2017
Brawley – With over 40 visually impaired students county-wide, the team of six Special Education staff stay busy.  The Visually Impaired (VI) hub at ICOE's Del Rio Campus on the east side of Brawley is also home to Special Ed. teacher, Guadalupe (Lupe) Gonzalez, who just recently finished her Education Specialist Credential for the Visually Impaired.
A native of Brawley, Lupe took a somewhat unconventional path to education in general, let alone her specialization for working with visually impaired students.  Lupe was raised in Imperial Valley but also spent a year or two as a child living in Mexicali as well.  An IVC and SDSU graduate seems normal enough – but when she was young and times were tough, Lupe also worked as a field working picking lettuce.   
Her innate ability to lead projects and train other team members quickly translated into jobs working first for I.V. Recycling Center then for the City of El Centro at the city water plant.  It was there that a joy of teaching was birthed as she led trainings with burly guys wearing steel-toe boots.  In 2006 she applied to be a teacher at Kennedy Middle School in El Centro and left behind the burly guys for squirrely junior highs.  
Recruited to join ICOE in 2013 she has been working on this highly specialized credential ever since.  She's the only teacher in Imperial County with the VI specialization, which takes years to complete.  
Now that she's finished commuting to Tucson and the University of Arizona and then recently to Cal State Fullerton – Lupe plans to spend more time with her family.  Her husband of 25 years, Alfonso works as a UPS driver and the Gonzalez's have three children, Alfonso Jr. (23), Alejandra (21) and Isaiah (12).  
The many hours and extra credentials are worth it though, when we see the results in lives that are dramatically changed for students who, apart from their education, would often be excluded and marginalized.  At ICOE, All Means All, and because of Lupe and her team, 40 students have dramatically better lives.