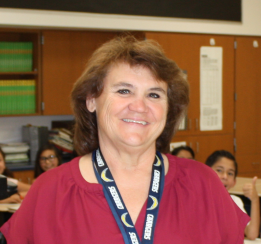 Imperial County – Based upon Imperial County's student enrollment of 37,000 for grades Kinder through 12th grade the Imperial County Office of Education can nominate one local teacher to the California Department of Education to be considered for the California Teacher of the Year Program.   Brawley Elementary School District's Gail Zeigler has been selected as ICOE's nominee for this year.  Ms. Zeigler has taught for 33 years, most of that being in the Brawley Elementary School District. She's taught at all the district's elementary schools and currently works at Phil D. Swing School where she not only teaches 4th grade, but serves as the Safety Patrol Advisor and coordinates the Jump Rope for Heart program at her school as well.
The principal at Phil D. Swing School, Elizabeth Casey, noted that "Ms. Zeigler is a classroom leader who creates environments that encourage collaboration and innovation. She values the importance of building relationships with all of her students every year. Every day she focuses on catching her students doing something great."  Each morning during the school year the school's prestigious Safety Patrol helps ensures that students arrive safely to school each morning. Ms. Zeigler can often be seen overseeing the patrol and training the nearly 50 students that are part of various patrol teams.
If selected as one of the California's Teachers of the Year, Ms. Zeigler would be showcased as a shining example of the over 300,000 teachers in the state.  Annually the CDE selects five teachers to serve as California's Teachers of the Year and they receive nominations from county offices of education throughout the state.  Locally in Imperial County nominations are received from the various recipients of local Teacher of the Year events, such as the Brawley Chamber of Commerce's annual teacher's dinner in September and the local chapter of the Association of California School Administrators (ACSA)'s dinner in the Spring.