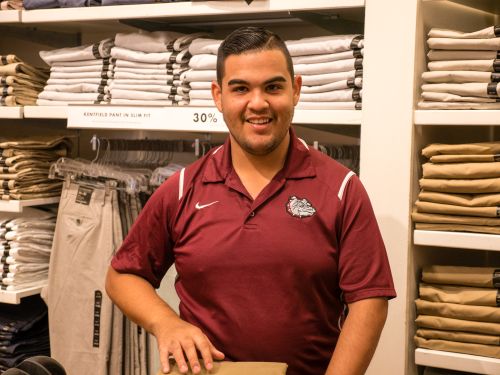 Just like they had done all year, an hour a day, up to twice a week, George Mendez and Yazbeth Velasquez folded, matched and sorted high-fashion clothes at the Banana Republic store at Calexico's Gran Plaza mall. Today would be different, though, when assistant manager Stephanie Villanueva presented the young men with a cake on their last day of "work."
"I'm proud of you guys," Villanueva said. "We really have appreciated the help. Thank you for the hard work."
And hard work it has been, at least for Mendez, 19, of Calexico, who is severely developmentally disabled. Even though he said it's "hard," he also said he likes "everything" about it, smiling ear to ear Monday as he worked on a wall of chinos, sorting them by waist size with his helper, instructional aide Francisca Arevalo.
Mendez is a student in Francisco Nuñez's Imperial County Office of Education special education class based at Calexico High School. While anywhere from two to four students can work the Banana Republic store, on Monday it was just Medina and 20-year-old Velasquez, also of Calexico, who folded women's jackets and sorted them by size at a nearby table. They are part of a program called "Workability" through ICOE and the Imperial Valley Regional Occupational Program (ROP), Nuñez said.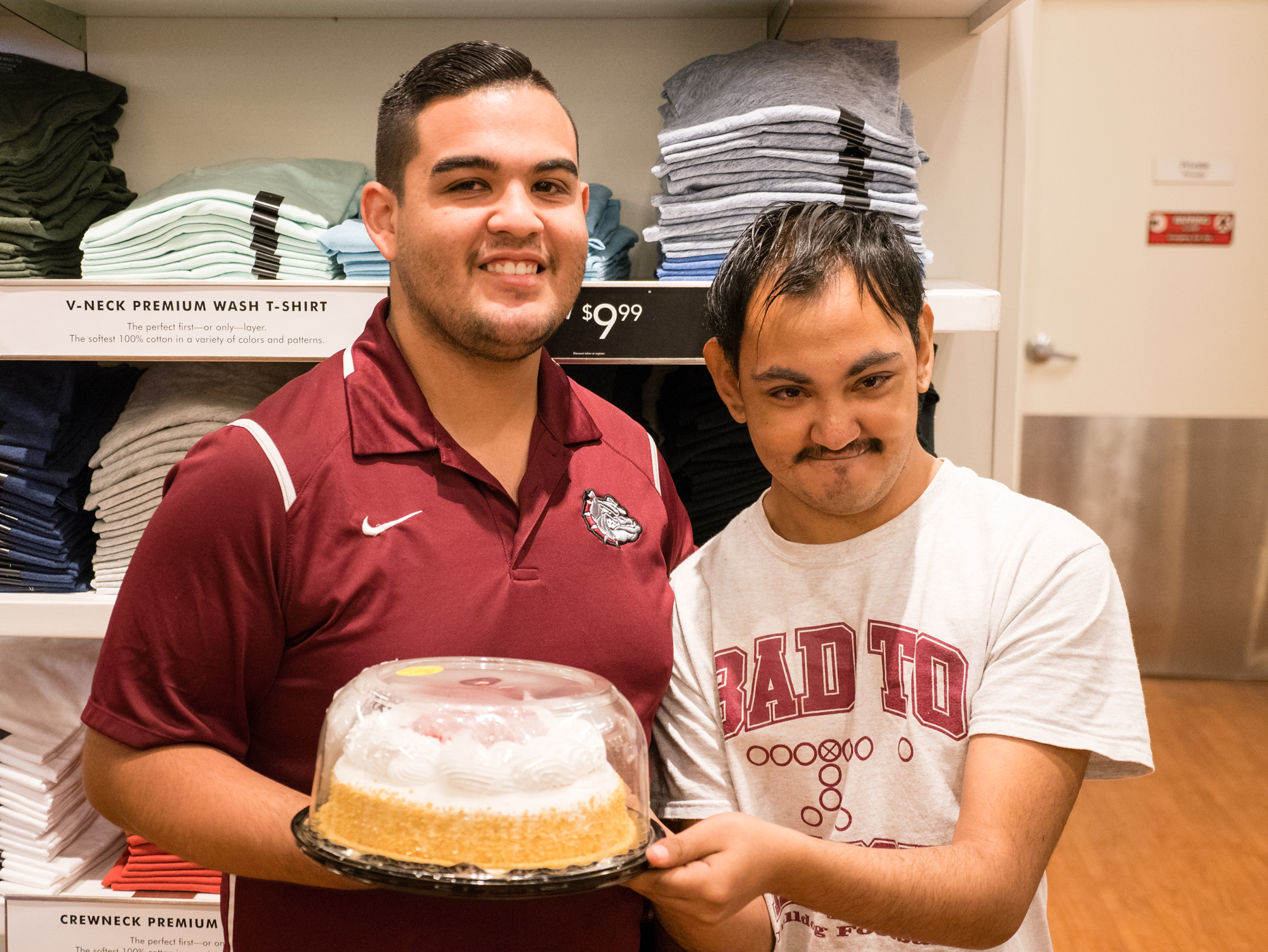 When not folding clothes, they might be sorting items or cleaning at the two other Calexico job sites they and a dozen other students work, KFC and Pizza Hut.  
That's one reason I'm so proud to work for this company: We're all about inclusion,
Working at the Banana Republic is special, however. Nuñez said students with increased challenges might be more suited for KFC or Pizza Hut, but the more independent and advanced students can earn a spot at Banana Republic. Arevalo said KFC and Pizza Hut are closed to the public when the students come by. Not so at the high-end fashion outlet---the students work right alongside regular store staff and customers coming in looking for deals.
Banana Republic General Manager Israel Muñiz has witnessed the students interact with the customers, and he thinks it's great. In fact, Muñiz is a huge fan of Workability having initially come to the workforce at age 16 through an ROP work experience program himself.
"That's one reason I'm so proud to work for this company: We're all about inclusion," he said of Banana Republic. The students "definitely blend in with the rest of the staff. … People will ask them for things and ask them for sizes. Some of the kids are kind of shy, but we work with them and help the customers out."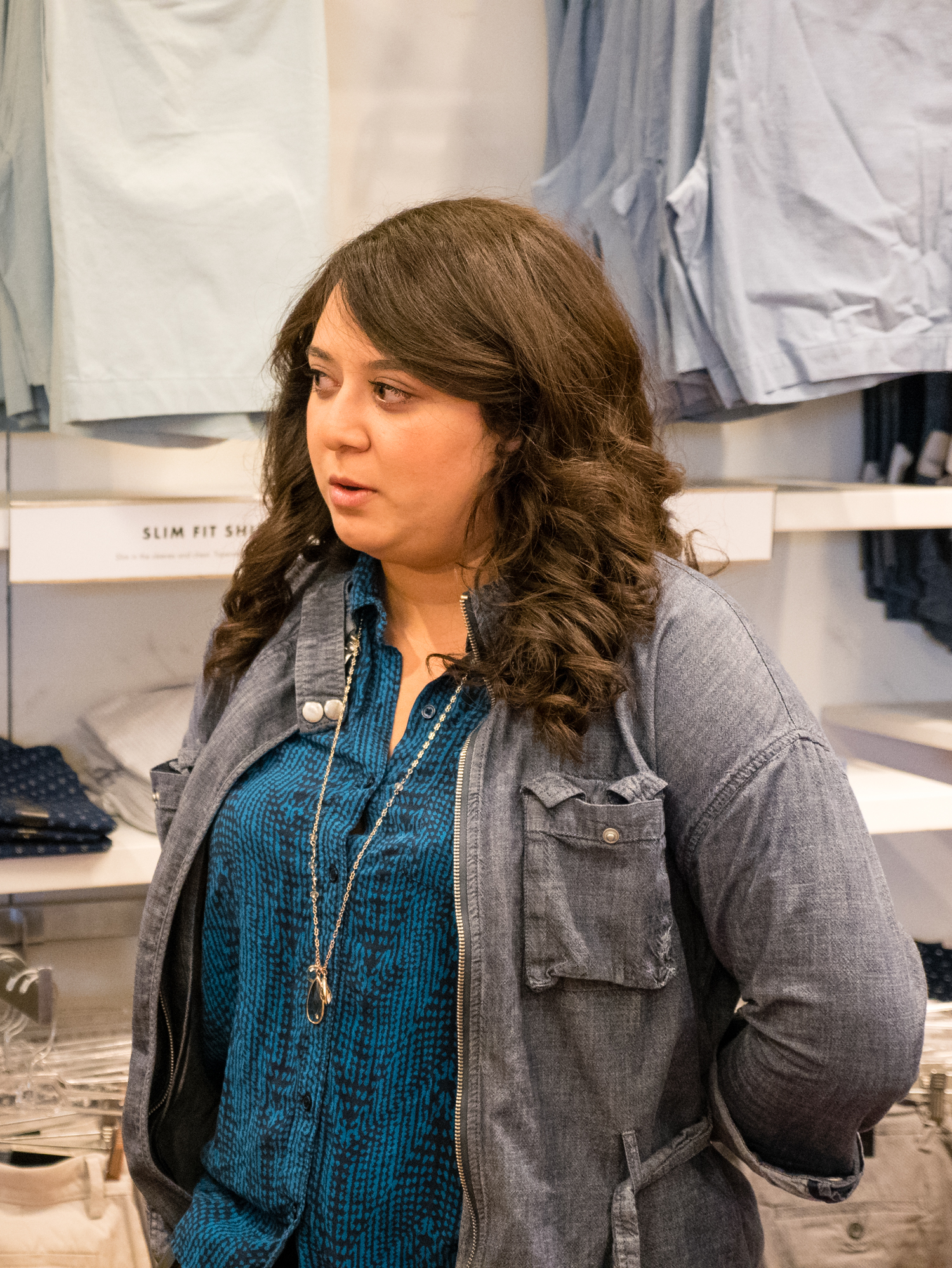 Muñiz said the work the students do is extremely vital to the bottom line of the store, making sure the popular clearance racks that make up a large portion of the shop's business are picked up and in order by type, color and size. During the course of a busy day, Villanueva said, regular store staff just can't get to it.
"Them having it all organized and ready for the customers," Muñiz said, "increases our sales." He added that 50 percent of the store's business comes through the clearance areas.
The Workability program will start up again in the fall, and Muñiz said he looks forward to a new crop of students to help in the store.
Villanueva is ready as well. "Sometimes we complain about the little things, and then we see them come in so hungry to learn even little things.  It inspires me in a way."
"Not just me as general manager, but every one of the staff generally enjoys working with them," Muñiz added. "Their smiles are contagious, the teachers' aides are great, and overall it's an amazing experience, and anyone thinking of this program should definitely give it a try."