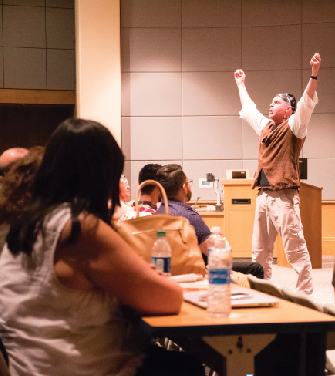 The newly formed Imperial Valley CUE, along with ICOE and IVC, hosted Tech de Mayo at IVC on Saturday, May 6, 2017. Local experts shared their knowledge and best practices in a series of breakout sessions. Dave Burgess, the New York Times Best-Selling author of Teach Like a PIRATE delivered a powerful breakout session on teaching outside the box and an inspirational closing keynote.
Tech de Mayo is a high-energy event designed to foster innovation and inspire new ideas among educators. This year, two hundred teachers and administrators were treated to a day filled with enthusiasm, professional networking and rich learning experiences.
Ascencion Reyes, Technology Resource Teacher at De Anza Magnet School (ECESD), Jesus Huerta, Teacher at Barbara Worth Junior High (BESD), and a group of their students showcased the innovative S.T.E.A.M. projects they are working on in the classroom. Educators were given the opportunity to try out some of the latest technologies available today, including 3D printing and Tinkercad; Bloxels, a platform to create your own video games; Apple Playgrounds apps to learn to code; coding and electrical engineering with the Arduino board; and robotics with "Ollie." Participants learned how they can incorporate these tools into writing projects or to support math and science concepts.
Participants also enjoyed Dave Burgess' enthusiasm and his passion for teaching as he delivered an energetic and inspiring keynote presentation highlighting the importance of embracing the spirit of a pirate. Dave encouraged educators to be unconventional, try new things and look for the key to unlock student engagement using "hooks" to draw students into the content and create an experience they will remember. Even teaching content standards you can make things amazing for your students! Dave invited participants to embrace the mightier purpose of being an educator. "We're in the life changing business!"
Teachers left energized, excited and eager to implement the techniques and strategies they learned during the day.