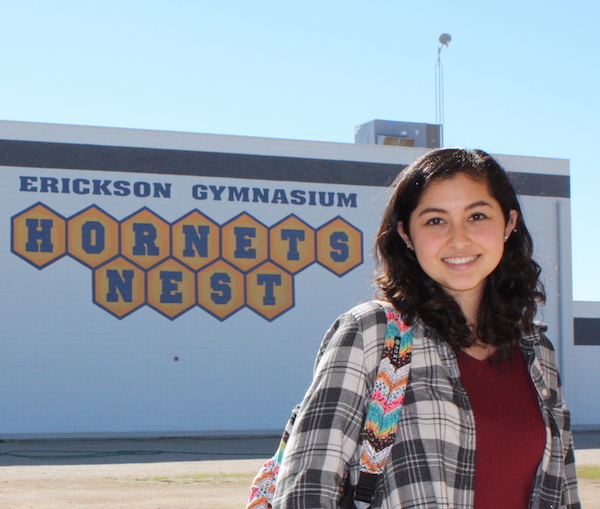 Calipatria – Just three days before the start of her sophomore year at Calipatria High School, Danielle Flores received the unexpected news that she had stage four Hodgkin's-Lymphoma.  The ensuing eighteen months for Danielle would be the toughest of her life as she battled cancer through radiation and dreaded chemotherapy sessions. 
Amazingly, instead of focusing on the illness that forced her to split time between Rady Children's Hospital and at home in isolation because of her weakened immune system, Danielle focused on her school work.  Whether it was dedication or a coping mechanism to keep her mind off the ordeal, the 4.0 student made academics her top priority. 
"My family's main concern was my health, but I was more concerned about my school work," explained Danielle.  "Teachers would drop off school work or email assignments to me, and then I would plan my day around when I could study because the medication would make me real nauseous in the afternoons," said the straight A student. 
After a year of treatments, the cancer went into remission and Danielle was able to return to school for her junior year at Calipatria High.  This coincided with the new summative CAASPP State Tests that all juniors in high school now take.  Against all odds, Danielle scored in the highest category for both Math and English Language Arts – a testament to her hard work, but also to a school that cares about students and to the teachers that refused to allow Danielle to miss out on her studies. 
Danielle has no signs of cancer and is finishing her last semester of high school.  While she couldn't play any sports, she did make the cheer squad at Calipatria this year and she is involved in virtually every club on campus.  As she awaits her acceptance letters from the top universities in California, a few things are already known – Danielle Flores has the grit and determination to succeed in college and a career because of the tough lessons she learned through battling cancer and the support of a caring community like Calipatria High.