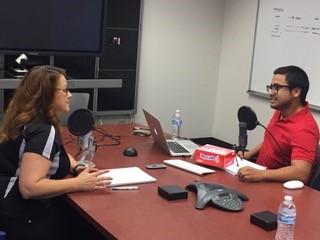 Recently Amelia Rosas-Carlos, coordinator with ICOE's Migrant Education sat down with Gil Rebollar, host of Small Town News Podcast, to discuss the Migrant Education Program here in Imperial County.  Over 7,000 students here locally receive services from the Migrant Ed. Program.
The Small Town News Podcast is a local endeavor that was started by Gil Rebollar.  Upcoming interviews are scheduled with ICOE's John Lazarcik who discusses the major changes to California's science curriculum and the Principal at ICOE's Alternative Education program here in Imperial County which services students who have had difficulties in traditional school systems.
Listen to the Small Town News Podcast episode here.