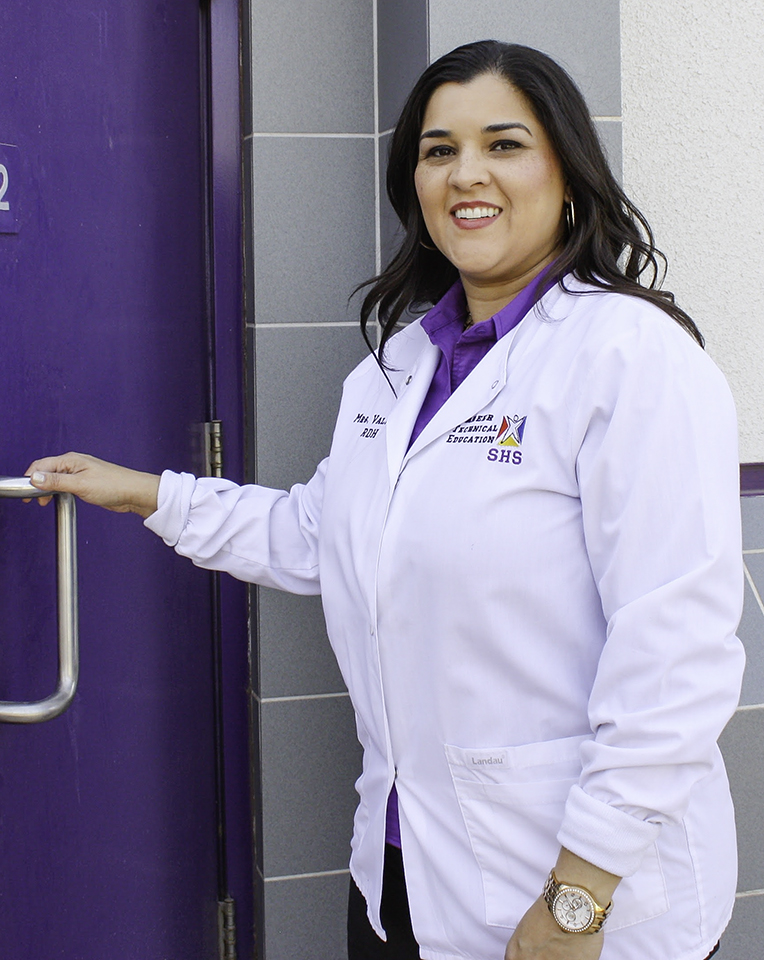 "My philosophy is to look beyond the existing barriers, whether academic or personal,
to see the potential in all students for success." –Jackie Valadez
El Centro – Southwest High School's Mrs. Jackie Valadez, Imperial County Office of Education's nominee for California Department of Education's Teacher-of-the-Year 2016, works hard to make sure that her students feel welcomed, supported, and safe in knowing that the learning process will culminate in a difference in themselves, their community, and their future.
Before starting her teaching career at Southwest High School in 2007 as an instructor in the Dental Assistant pathway of the Career and Technical Education course, Mrs. Valadez was employed as a Registered Dental Hygienist.  With her background it makes her better able to share her personal experiences as a healthcare provider and enables her to inspire students to strive for success with passion and purpose.
Mrs. Valadez has also used her position as a health advocate to support reducing oral health disparities in the community by conducting oral health education lessons to Imperial Valley schools and the Boys and Girls Club of Imperial Valley.  Her Dental Hygienist expertise is often sought throughout the rural community to serve as a guest speaker during their annual Career Day events.  By sharing her passion, she has found her purpose.
Central Union High School District's Superintendent, Renato Montaño, has nothing but high praise for Jackie's abilities and work ethic, "Her work is not limited to the instructional day!  Her students participate in state and national competitions where students learn how to lead others, how to exhibit professionalism in community groups and how to deal with adversity."  Mr. Montaño highlighted an important point, "The greatest indicator of success in her program is that many of her former students have returned to Southwest High School to serve as mentors, speakers, and college and career ambassadors."
Her dedication to oral health care garnered Mrs. Valadez an endorsement from Shannon D. Weatherly, MA, National Director for Programs for the National Children's Oral Health Foundation. "America's Tooth Fairy: National Children's Oral Health Foundation provided a grant to Mrs. Valadez's HOSA ­ Future Health Professionals student chapter last year. We fully understand the constraints teachers are under - time, money, and energy - Mrs. Valadez consistently went above and beyond our expectations in integrating oral health education and advocacy with her students and the students at Southwest High School."
As part of the Imperial County process to select the county-wide nominee, Mrs. Valadez along with 12 other local teachers were recognized as one of the Imperial County Teachers-of-the-Year by the local chapter of the Association of California School Administrators (ACSA) in May.  Those teachers, plus others such as those selected as Teachers-of-the-Year by the Brawley Chamber of Commerce, were then compiled into a finalists group of top local teachers.  A representative committee of ICOE staff, local school administrators and teachers, along with representatives from the local Uniserve office then made the final recommendation to Dr. Finnell.    While the submission date was in August we are still waiting to hear if Mrs. Valadez is indeed selected as the Teacher-of-the-Year for the State of California.
"We need to encourage and recognize effective teachers and give them support," said Dr. Todd Finnell, County Superintendent of Schools. "This Teacher-of-the-Year nomination process gives us the occasion to highlight the great things happening in education here in Imperial Valley and especially in Mrs. Valadez's classroom at Southwest High."