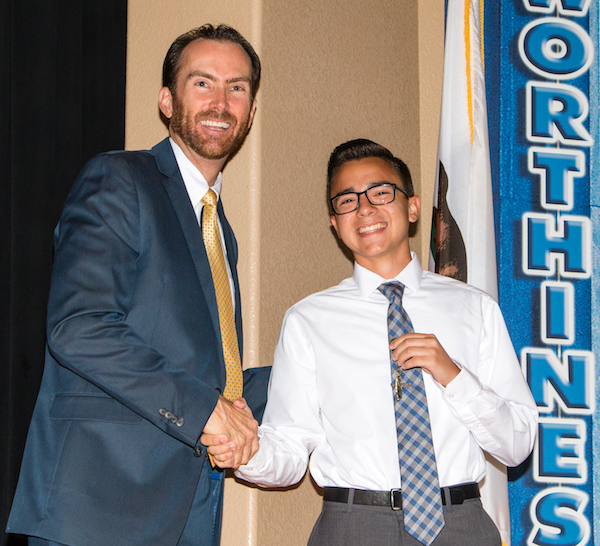 Education Matters
J. Todd Finnell, Ed.D.
County Superintendent of Schools
It's back-to-school time in Imperial County! The opening days of school conjure up images of backpacks stuffed with notebooks and unsharpened pencils, bulletin boards freshly decorated by teachers, and students showing off their new clothes to old friends. It's a wonderful time of year, which is why I'd like to share some information on a variety of topics affecting our schools and community in 2016-17.
Attendance Makes a Difference
Good attendance is central to student achievement and our broader efforts to improve schools. All of our investments in curriculum and instruction won't amount to much if students aren't showing up to benefit from them.
Problems with absenteeism start surprisingly early: National research shows that one in 10 kindergarten and first-grade students are chronically absent, meaning that they miss 10 percent of the school year, or about 18 days of instruction, because of excused and unexcused absences.
These absences can have consequences throughout elementary school, especially for many of our students living in poverty, who need school the most and are sometimes getting the least. Children who are chronically absent in kindergarten and first grade are less likely to read proficiently by third grade, and students who don't read well by that critical stage are more likely to struggle in school. They are also more likely to be chronically absent in later years, since they never developed good attendance habits.
In the early grades, chronic absence often has little to do with truancy or willfully skipping school. Instead, children stay home because of illness, unreliable transportation, housing issues, or simply because their parents don't understand how quickly absences can add up—and affect school performance. After all, 18 days for the year is only two days a month!
Please join us in our effort to make every day count. Our schools are looking at ways to build a "habit of attendance" and need help from parents and the entire community.
College and Career Readiness
Our goal for Imperial County students is that they graduate high school and are ready and prepared for their choice of college, career or both.  Additionally, we're training students for a journey of lifelong learning where every student has the mindset and disposition for college and career readiness.
We've recently developed a college and career roadmap for students that gives benchmark goals for students, families and educators to determine if students are progressing towards our goal to ensure that when students graduate from high school they are able to succeed in entry level credit-bearing college courses without the need for remedial or developmental coursework. 
Countywide Academic Events
What could be cooler than seeing local students take over a courtroom or share their latest science project explaining how a simple puff of air can move a huge boulder? If you've witnessed any of the countywide academic events recently, you know they are tough to beat!
We're very fortunate in Imperial County to have an active community that supports a variety of events that bring together thousands of students in competitions and scholarly pursuits. The upcoming schedule of events promises to be another exciting chapter as our students receive regional, statewide and even national recognition for their outstanding performances.
These are some highlights of this year's activities:
Mock Trial: Held in collaboration with the County District Attorney's office, our Courts, and numerous legal professionals, Mock Trial is a team competition where high school students gain a working knowledge of legal institutions and the judicial system.
Academic Decathlon: Top high school students match wits against each other in this annual competition between schools.  Students spend countless hours training and studying extra academic material in preparation for a multi-day event that eventually crowns a county-wide champion team and individuals.
National History Day: History Day encourages students in grades 6-12 to research and prepare papers, exhibits, performances, documentaries, websites and posters on an annual historic theme.
Migrant Education Speech and Debate Tournament: Imperial County students enrolled in the Migrant Education Program sharpen their language and public speaking skills in an impressive speech and debate tournament.  This past year Holtville High's Debate Team won the State title.
Imperial County Spelling Bee: Before a student gets to compete at the Scripps National Spelling Bee in Washington DC and appear on ESPN, they have to win their individual school's spelling bee and the county-wide spelling bee competition. 
Science Fair: This annual individual competition for students in grades 7-12 promotes science projects designed, developed and displayed by students.  Often these science projects are based upon solving real world scenarios and can be very creative and intricate.
Celebration of Education: The 2017 Celebration of Education will be held on Thursday, May 4, 2017 and you won't want to miss it! Come experience the amazing things our schools are doing inside and outside the classroom to provide our students a rich and engaging education – one that focuses on the social, emotional, physical, and academic well-being of our youth.
Support for Education
Lastly, investing in young people and their education is important.  Resources and support applied intelligently produce results we can be proud of and share together.  Your support of education is valued and appreciated!
There are a variety of ways you can support education.  From mentoring and volunteering to charitable giving – there is a role for EVERYONE to play in the success of children. 
Some of the organizations that you may consider supporting include PTA Organizations, High School Booster Clubs, and Education Foundations such as ICOE's Foundation for Education which looks to serve teachers and students throughout the county.
In conclusion, there are so many wonderful things happening in the county to support our students and fulfill our promise to prepare them for their path. I'm excited each and every day for our students, our families, and our future in Imperial County. Thank you for allowing me to serve our community in support of this worthy mission. It is an honor to work closely with our dedicated teams of administrators, teachers, and staff throughout our community who share in our mission to make Imperial County a better place to live, learn, and work.