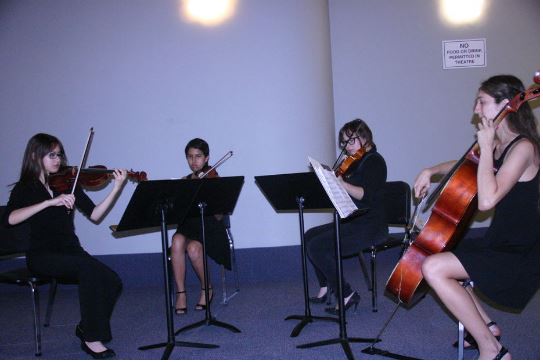 Honoring the dynamic progress of education in Imperial County, the inaugural Celebration of Education saluted the dedication of students and the hard work of teachers and staff in the Jimmie Cannon Theater for the Performing Arts at Southwest High School on Friday.
The evening acknowledged all the exciting developments in education throughout county school districts. Supporting education is critical and as all stakeholders rejoice in their collective efforts they hope the investment pays premium dividends, noted Todd Evangelist, director of development and community relations of Imperial County Office of Education.
"Remember, students are not successful by themselves," said Evangelist. "But our resources applied intelligently produce results we can all be proud of."
The program showcased a number of performing artists, form the Great Spartan Band to the Folklorico Club of Brawley Union High School, the Southwest Chamber Ensemble and variety of paintings and exhibits, remarked Dorene Johnson, senior director of curriculum at ICOE.
"I hope we've captured the exciting and innovative things happening at all our public and private schools," said Johnson. "I hope people after hearing County Superintendent of Schools Todd Finnell, they walk away excited and share in his vision of what true collaboration can achieve."
For Pedro Martinez, coach of the Imagine School Imperial Valley Drill Team, it is a moment to revel in their recent achievement of winning Sharp's World Championship in Hawaii after surpassing fierce competition among the nation's schools.
"We work as a team and plan our goals that helped us gain a world championship," said Ramirez. "Tonight's event is a thank you to all the principals and parents for their support."
Standing in the lobby greeting visitors who were admiring his students' art work, Raymond Lopez, art teacher at Brawley Union High School, remarked that everybody is an artist and it is a human right. "I tell everybody if you can draw a line you can paint," said Lopez. "Art uses all the senses, it is not just a visual medium."
Jose Flores, BUHS civics and government teacher noted he has seen a lot of new faces at the ICOE and remarked they are doing a great job to promote the diverse programs throughout the county school districts. "This celebration reflects the devotion of students and diligent work of teachers from kindergarten through 12th grade that's been demonstrated all year long."
Finnell praised ICOE's extraordinary team that supported the schools all over the county by committing to a vision of making the community an ideal place to live, learn and work.
"All the changes in academia we are seeing now is the biggest shift, and it's owing to a return of control to local school boards," said Finnell. "They have been given the flexibility to spend resources and along with that comes greater responsibility to parents and the community. It is exciting school board members' role is increasing. So hats off to that process."
William Roller, Staff Writer
Imperial Valley Press