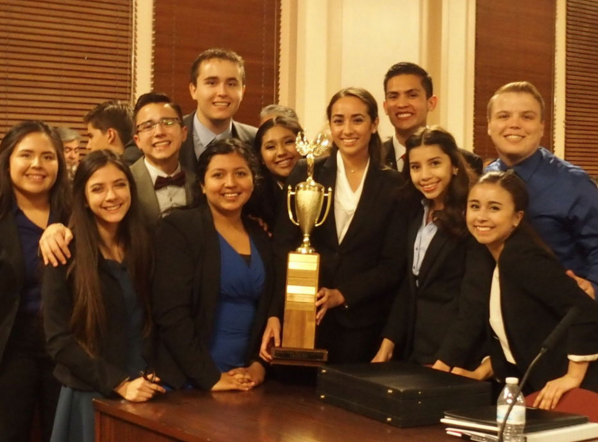 Despite a rough start to their year when members of the Central Union High School mock trial team had to work hard to recruit new members, the team was able to carry through an undefeated season and finished off with a victory over a very tough Brawley Union High School team at the Imperial County mock trial finals Monday.
With its win Central has earned the right to represent Imperial County at the state mock trial competition for a second consecutive year. Central finished in second place in the state competition last year and is already looking forward to next month's competition in Sacramento.
"I just think this is crazy, starting off year was really rough to get a team together," said Central junior Natalia Rojas, who Brawley selected as the Most Valuable Participant for Central. "The fact that we've been able to make it to state is unbelievable … I'm crying, I'm blown away."
CUHS selected Reet Goyle as Brawley's MVP of the competition.
Team adviser for CUHS Anna Vizcaino was excited for her team's win and attributed the success the team has had to the hard work and commitment from the team.
"Our attorney, Marco Nuñez, he is a fabulous coach," Viscaino said. "All the long hours that the team put into it weekends, holidays, long practices were worth it."
During Monday's mock trial at the Imperial County Superior Court, Central acted as the prosecution for the case and Brawley played the role of defense.
U.S. District Court, Southern District for California Judge Peter Lewis praised both teams for impressive effort.
"Congratulations to both teams. I saw a relentless cross-examination, which was great to see, sometimes you don't see that in real cases," he said.
Rojas said that the great result can be attributes to the time that the team has dedicated to practice and to come together. She praised Brawley's team for making it a much-contested trial.
"We really came together as a team, we bonded unlike other teams, that we have each other's backs throughout the entire competition and throughout the entire season and I think that is what really helped us," she said.
After having an impressive run at last year's state competition the goal for the team now is to get the state championship.
For Rojas having the opportunity to be part of these mock trials with a real judge, people scoring their performance and an audience is a unique experience that allows the students to get a real taste of what being a lawyer is like.
"For me honestly it's amazing, I plan to become a lawyer when I grow up, the fact that I'm able to get this experience I cherished with my heart it's amazing to me," Rojas said. "I like being a prosecutor because I like calling people out on all of their lies."
After having won its six mock trials this season a lot more hours of preparation are ahead for the CUHS team that feels confident going into the state competition.
"We had many new members, it took a lot of work from the students and time away from families and everything," Vizcaino said. "I'm very excited, it could have gone either way. This is fabulous. I'm super excited for Central's win tonight."
Edwin Delgado, Staff Writer
Imperial Valley Press