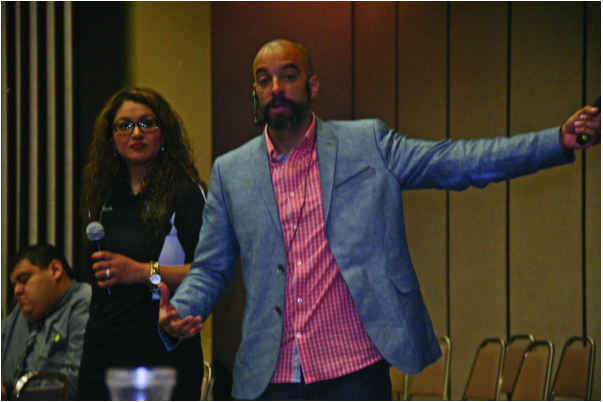 HOLTVILLE — Aspiring to sow seeds of change in the educational system by embracing the diversity comprising English language learners, the fifth annual English Language Learners Institute convened a two-day forum here.
Approximately 200 teachers attended the confab at the Imperial Palms Hotel & Resort at Barbara Worth. It aimed to instill participants with the understanding that all ELL students can succeed but each may take a different pathway, noted Jeanette Montano the Institute's curriculum coordinator. Her co-coordinator was Lupita Olguin-Rubio and they were both assisted by Leticia Jimenez.
One main focus is who the students are; their culture, background and home environment because when educators do that they will uncover the barriers that keep them from moving forward.
"As educators we must stop and reflect if what we are doing is working," Montano said. "But also think about how to improve because we can never settle for the status quo."
Claudia Salinas, one of several presenters, works for Pearson Education Company in Dallas. Her job is to help students in all aspects of learning. Her topic was how digital literacy tools help ELL students succeed. But there is a problem with learning retention, as only 59 percent of ELL students get a high school diploma nationally and there are only 12 percent of jobs available to dropouts and yet, 43 percent in Imperial County are ELL students.
"It is all about inspiring and this where technology tools help," Salinas said. But tech alone is not engagement, simply putting a device in student hands accomplishes little, it is how an instructor uses it.
"Tech allows a more economical way to put across concepts," Salinas said.
One software program she favors is Poll Everywhere. In moments it surveys an entire class if they know a word or idea and students text back answers. But no matter the software teachers need to continually track progress.
Lucio Padillo Jr. is director of instructional technology at Calexico Unified School District. He was an attendee and noted, he uses PowerPoint, Keynote and Caffeine to create, build, produce and present to authentic audiences that is beyond the classroom. There is nothing wrong with presenting projects to class peers but when students broaden their audience to a wider civic community the project has more meaning and they take the opportunity refine their presentation to be a more precise work, he said.
Another attendee, Erika Leon-Lopez, an ELL teacher at Holtville High School also takes to heart the need of inspiration. She maintains, she and staffers greet students at their arrival every day. And though some aspire to be teachers, she admonishes them to aim higher. And just because English is not their first language does not mean they cannot succeed beyond their initial dreams.
Yet teaching requires a full commitment, mediocrity is unacceptable, stressed Jeff Duncan-Andrade. His powerful presentation covered some areas of his research interests of curriculum change, teacher development and retention and critical pedagogy. For beginning teachers, he advocated overcompensating with unconditional love, because a first-year teacher is not yet a proficient practitioner and would do well to emphasize personal dynamism until professional skills become more polished.
His message to first-year teachers is, "don't be mean."
Numerous students, especially in low-income areas have endured trauma and teachers who can empathize with students register as a caring adult.
"Who's doing worst in schools today?" asked Duncan-Andrade. "It's males of color. Teachers need to consult their empathic connection to students in order to grab their attention. If you don't have an empathetic connection, your pathway to healing and teaching is blocked."
William Roller, Staff Writer
Imperial Valley Press