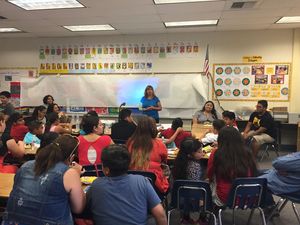 Migrant students transformed their four-week-long summer school skills into informative presentations during the final days of classes Wednesday.
"Students are not only engaged and involved in working together as a group, but they're enjoying it," said Arturo Camacho, Heber's summer school principal.
More than 100 migrant students in grades four through seven were able to show parents and family members their hard work and the fun concepts they've been learning about for the past several weeks.
Geared specifically toward migrant students at any learning level, the summer pilot program backed by the county of Imperial, gave local students the opportunity to gain a better understanding about key topics in language arts and math with a creative art focused curriculum.
"Something really interesting is that art became our point of reference for language arts and for math," explained Carmen Ruiz, who taught the language arts portion of the program to a sixth grade class. "By teaching art I think we made it a point to tell our students there are creative ways to go about everything."
Co-teaching alongside Ruiz with a math emphasis, was Juan Galindo who also felt the new curriculum really helped the students enjoy learning the information.
"Kids want to have fun because it's not like regular school so we are able to provide that fun part with the manipulatives in math so they can have a better understanding of it all," Galindo said.
The inclusion of manipulatives, which are objects designed to allow learners to perceive some mathematical concept by manipulating it, provides a way for the students to learn about math with a more hands-on approach, Galindo explained.
He also mentioned how the migrant-specific program helps to assist the individual needs of the students, who can often get academically lost during the school year.
"Statistics show that migrant students score low during the year," Galindo said. "The program provides this opportunity for teachers to kind of do an intervention to prepare the students for next year."
Having attended similar summer school programs in the past, 11-year-old Dominique Molina shared her thoughts on the interactive and creative summer classes.
"I love it because in the summer I get really bored and it's fun because we get to do different activities like art and learn more about math like integers and fractions," Dominique said.
The themes explored in the language arts portion of the course also tried to connect with the students by focusing on the diverse lifestyles of migrant families, explained Marta Gonzalez, a fourth-grade teacher for the summer program.
"They read stories, wrote poems and saw movies that reflected on the experiences and their feelings about what they are going through in line with what the literature was talking about," Gonzalez said.
Being able to connect what she was learning in the classroom to her homelife, 10-year-old Abigaile Vasquez said she enjoyed the program because her family used to write poems and now through the summer classes she knows how to, too.
"I came here and wrote my first poem and actually enjoyed it and now I'm writing poems," Vasquez said.
Also having enjoyed the program was Mateo Reynaga, 10, who had been to summer school before, but said this one was different.
"I think it's awesome," Mateo said. "I have been in summer programs before, but I never did art, played games or had fun learning like this."
Celeste Alvarez, IV Press Staff Writer
Imperial Valley Press