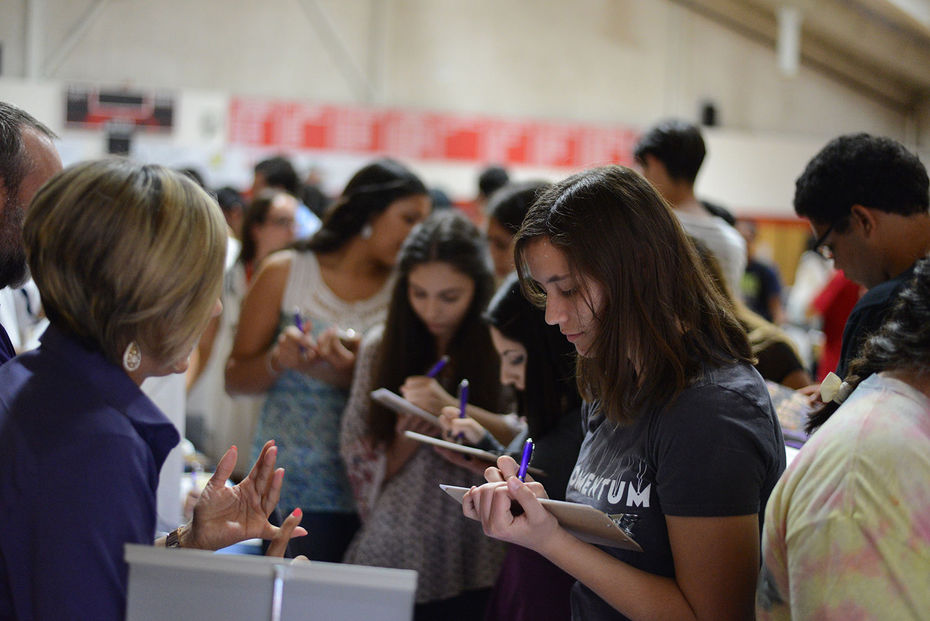 IMPERIAL — Imperial High senior Marie Alvarez, 17, is still trying to decide if she's going to San Diego State University in San Diego or Biola University in La Mirada.
On Wednesday, she and her senior classmates at Imperial met 30 different college and university representatives and recruiters during Higher Ed Week put on by the Imperial County Office of Education at Imperial.
Biola and SDSU were among the 30 schools.
"I think it's very helpful and I love that they do this for the community because not everybody has that opportunity to do it for themselves," said Alvarez. "Having this at the high school, it's a really great chance for students to know more about their colleges and know more about what they want to do with their lives."
The event at Imperial is one of several the ICOE is holding this week, with the event visiting Brawley Union, Calipatria and Southwest high schools today.
It has already been to Central Union, San Pasqual Valley in Winterhaven on Tuesday and Holtville and Calexico highs later in the day Wednesday.
"It's been a great success," said Denise Cabanilla, director of Higher Education and Adult Learning at the ICOE. "We have students asking a lot of fantastic questions, our recruiters are excited and enthusiastic about promoting their colleges and higher education in general."
In its 11th year, the event provides information directly to students about tuition, grades, transfer requirements and anything a student might ask as he or she prepares for life after high school.
"It helps you see how the colleges are going to be like as a freshman, what it's going to cost, everything you need to do to get into that college," said Imperial senior Omar Ahmad, who is planning to attend the University of California, Los Angeles. "I'm originally from LA … my sister is going to UCLA already."
Mario Renteria, Managing Editor
Imperial Valley Press