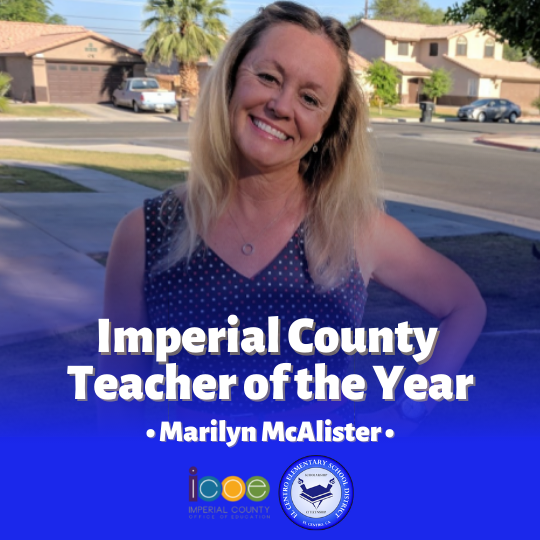 Imperial County – 6th grade teacher from the El Centro Elementary School District, Marilyn McAlister, has been selected as the Imperial County Teacher of the Year!
Mrs. McAlister has taught for a total of 28 years, most of them being in El Centro with initial teaching stops in Calipatria and Imperial. She currently teaches 6th grade at Sunflower Elementary School and is a leader and influencer in the education profession both locally and nationally through various associations and social media.
"Marilyn is a wonderful person who has worked tirelessly over the years to earn this honor," stated Dr. Todd Finnell, County Superintendent of Schools. "She embodies everything we look for in our teachers, and we're so proud to recognize her as our representative from Imperial County. Her positive spirit, infectious attitude, and love for kids are a model for us all."
She has also been recently recognized as 2021 Teacher of the Year by Imperial Valley CUE, an association of educational leaders focused on technology, and previously by the Association of California School Administrators (ACSA) in 2017.
Based upon Imperial County's student enrollment of 38,000 for grades kindergarten through 12th grade, the Imperial County Office of Education can nominate one local teacher to the California Department of Education (CDE) to be considered for the California Teacher of the Year Program. If selected as one of California's Teachers of the Year, Mrs. McAlister would be showcased as a shining example of over 300,000 teachers in the state! Annually, the CDE selects five teachers to serve as California's Teachers of the Year from the nominations they receive from county offices of education throughout the state.
In Imperial County, a committee at the County Office of Education was tasked with recommending a single nominee to represent the outstanding work of Imperial County teachers from the nominations received from local school districts.
Raised in Imperial, McAlister studied political science as an undergraduate at San Diego State University and later obtained a master's in education at SDSU as well. McAlister and her husband Vance have two children, daughter Hannah who is a teacher as well, and son Colin who recently graduated from UC Irvine, summa cum laude.
• Q&A with Marilyn McAlister (by Calexico Chronicle)
• IV Press Article