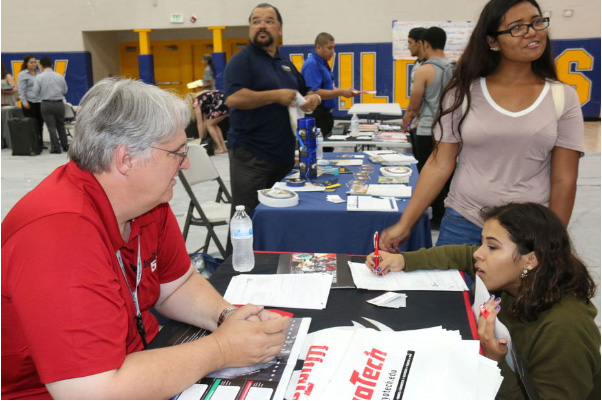 BRAWLEY — The fall term has just begun yet high school seniors are filling out applications for college and Imperial County Office of Education is leading the way with their semi-annual Higher Education Week range of activities to stress the importance of college and career readiness.
Arriving at 16 different schools throughout the county were 32 agencies, mostly colleges but also financial aid representatives to acquaint seniors how to successfully gain admittance, noted Susan Villon Brawley Union High counselor. Wednesday's forum at Brawley Union High provided seniors opportunity to confer with college reps they may have otherwise missed.
"We truly benefit having all these college fairs on campus," said Villon.
The Higher Ed Week program already visit most high schools in the Valley and plans to finish today at Southwest and Calexico high schools. A second Higher Ed Week is scheduled for later in the school year.
Exploring where she would like to spend her college years was Karissa Rodriguez. Karissa is drawn to math and engineering or even possibly psychology.
"I really like to talk and listen, it goes a lot with my character," said Karissa. "I haven't visited any schools but an environment where everybody's friendly that's probably where I'd like to go. I'd like to be in a big city, something different from the Valley."
Contemplating a future as an orthopedic surgeon Victor Martinez would like to go to school in the San Diego area because he already has family there.
"I've spoken to UCSD, they're a really good school and have what I want to study," said Victor. "I am also interested in the movie business. I've thought about directing feature films."
At the San Diego State University main campus table a number of seniors met with Rachel Rivera, a graduate student assistant who works in the early assessment program. It helps students determine if they are college ready in math and English. Helping Rivera was Esther Rodriguez SDSU administrative counselor.
"A lot of students are interested in nursing," Rodriguez said. "And criminal justice is a popular one."
Mercedes Barros who is thinking of a management career in medicine or the culinary field, noted she really appreciated the detail the SDSU table provided. "I really like how she gave a bunch of information on my test scores and GPA," said Mercedes. "I still have to take my SAT and ACT. But I've left here with a lot more information today."
Even though she does not yet have a car Ambar Velazquez is interested in learning how to repair her own car one day. She was talking to the WyoTech school representative from their Laramie, Wyoming campus.
"Mechanics interest me because a car basically has a life of its own," said Velazquez. "The fair was very helpful. I also looked at FIDM, because I'm interested in clothes design."
WyoTech, an automotive technology institute has two scholarship funds, one of which, Zenith, has a $250 million endowment. More than half their low income students have accessed it, noted Andrew Radler, Wyotech representative. He recommended students shop around for different programs and decide what works best for them.
"Find the right fit because a lot of students think they have to go to college," said Radler. "Technical school is a great option. I'm sending my son here to the diesel program."
Staff Writer William Roller can be reached at wroller@ivpressonline.com or 760-337-3452.