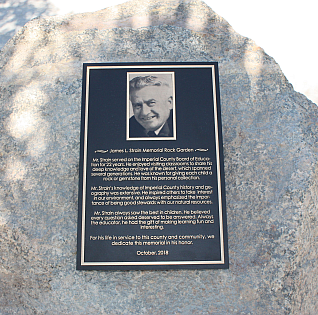 El Centro – On Friday, October 19th at 4pm, the rock garden around the flag pole at Imperial County Office of Education's Sperber Road campus was memorialized for the former ICOE board member and friend of education.   
Link to ceremony photos:  https://photos.app.goo.gl/uE4Ag53cARkVZz9p9

Jim Strain (1931-2013) was a member of the Imperial County Board of Education for 28 years.  He enjoyed visiting classrooms to share his deep knowledge and love of the desert, which spanned several generations.  He was known for giving each child a rock or gemstone from his personal collection.
Mr. Strain's knowledge of Imperial County history and geography was extensive.  He inspired others to take interest in our environment, and always emphasized the importance of being good stewards for our natural resources.

A resident of Holtville, Mr. Strain, worked for and eventually became the General Manager for Crossland Office Supply in El Centro where he retired in 1992.  Later he was a public relations consultant for the Mesquite Regional Landfill project in Imperial County.  The IV Gem & Mineral Society counted Jim Strain as a Past President and treasured lifetime member.  Locals frequently saw Mr. Strain at the Gem & Mineral Building at the Mid-Winter Fairgrounds.  In 1995, he was awarded the Golden Bear, in appreciation and recognition of outstanding service to the California Federation of Mineralogical Societies.