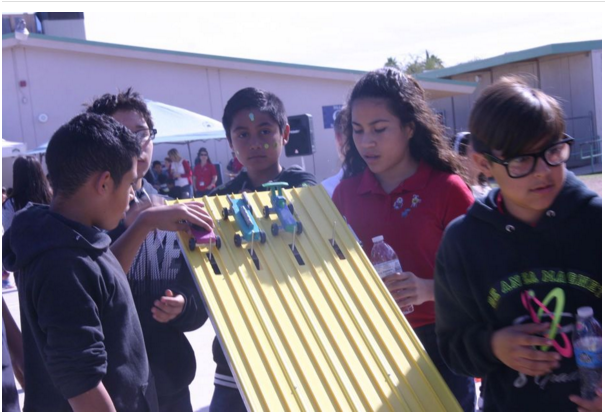 Maneuvering robots across the playground pavement, students at De Anza Magnet School derived satisfaction from seeing countless hours of classroom preparation pay off powering devices while some aspire to turn what may look like child's play into productive careers.
It was the debut of Robotics Day at De Anza Magnet School, a STEM school focused on science, technology, engineering and math. The event was organized by Ascencion Reyes, technology teacher. The objective was to expose students to robotics. It gave students a hands-on opportunity to program and in some cases assemble and even build their own robots.
"It's a pathway to science and technology careers that are now cutting edge but likely to be a growing trend in the future," Reyes said. "We hope to prompt students to go beyond the typical career in the Valley yet return here as professionals in the sciences because now we are importing many of the Valley's high-tech personnel."
Reyes pointed out, clean energy processes such as geothermal and solar are burgeoning industries in Imperial County. Also, De Anza's tech and electronic courses teach skills increasingly employed in the military, law enforcement, health care, automotive, computer components as well as in NASA.
"We hope it inspires kids to engage in hi-tech careers, especially for some of our young ladies we'd like to see them commit to STEM after seeing the robotics," Reyes stressed.
Powering an Arduino rover across the pavement was Maya Garcia, an eighth-grader. An Arduino is an open-source platform used for building electronics projects. It consists of a physical programmable circuit board aka microcontroller and a piece of software or IDE, integrated development environment that runs on a computer used to write and upload computer code to the physical board. Maya was excited to be finished with the project because it required a lot of adjustments.
"It took four different programs to find what was best," Maya said. "It was challenging and frustrating but I feel great once the rover ran as it should."
Disappointment hampered Adam Rubio and partner Demarco Marcus as their rover would only zigzag instead of ride straight.
"So we had to re-write the code," said Adam. "But it felt good when we finally got it right."
Helping younger students maneuver their Ollie, an app-controlled robot, was Paavan Patel, an eighth-grader. He and others visit classrooms to help with coding. Paavan cautioned students must concentrate, they cannot be "dumb" with it yet credits Reyes with guiding him through the process.
"It took two weeks but I finally learned how to make it do everything," Paavan said. "But in the beginning I had a really hard time."
Declaring it a "really cool day" was Adriana Jaures a sixth-grader. She and her team tried out a lot of robots using an iPad.
"But I'm really into sketching," Adriana said. "I'd like to focus on my art, draw lots of buildings and clothes, because tech is not really a career for me."
Principal Richard Sanchez applauds Reyes for orchestrating the event yet he had plenty of support from the rest of the teaching staff.
"We're looking forward to doing it again and make it an annual tradition," Sanchez said.
William Roller, Staff Writer
Imperial Valley Press