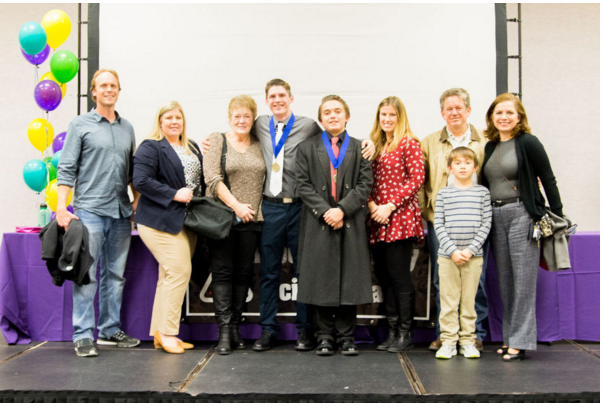 HOLTVILLE — Electricity in the air this week resonated not just from science projects but by participant enthusiasm.
Imperial Palms Hotel & Resort at Barbara Worth hosted the annual Imperial County Science Fair on Tuesday. With 160 students, 10 Imperial County schools competed in 16 subject categories. These included biochemistry, engineering, microbiology, physics, animal, earth, environmental and health sciences.
There were two categories of competition. The junior division for grades 7 and 8, while the senior division was comprised of grades 9 through 12. The most stellar students earned medals for first, second and third place. This year had 15 judges volunteer to score 103 projects.
Judges were associates of several local companies, including Imperial County Agricultural Commissioner's Office, Imperial County Environmental Health, Imperial Irrigation District, The Holt Group and ZGlobal.
Students typically become energized for the science fair, noted Kelley Marmolejo, fair coordinator. They had the opportunity to display their scientific discipline as well as swap ideas with classmates and promote scientific progress.
"The feedback we received from judges who work locally in science-related businesses, was the students were exploring the same questions in their projects that businesses are trying to figure out themselves," said Marmolejo. "For example, how to best extract salt from soil so that plants can grow."
During the competition two students were singled out for a top overall award in both the junior and senior divisions. Mary Abatti, a seventh-grader from St. Mary's School secured the highest award for her project in environmental sciences and management. For the senior division, the freshman team from Central Union High School of Micha McQuitty and Duncan Lillegard bested the field for their project in the engineering, electrical and mechanical category.
Honored his team was selected, Micha McQuitty and his project partner Duncan Lillegard, built an electromagnetic gun at the suggestion of Micha's grandfather who works with elctromagnets. "We fired metal projectiles at a cardboard target to show electromagnets can be used in transport of metal objects," Micha said.
The goal was to demonstrate how electromagnets can efficiently aid in mass transit systems. "There's actually a bullet-train in Japan that uses electromagnets," Micha said. Last April the Central Japan Railways successfully tested a seven-car magnetic levitation experimental train near Mt. Fuji. The train carried 49 railway employees at a speed of 373 miles per hour, setting a world record. The train hovers 10 centimeters above the tracks and is propelled by electrically charged magnets.
Duncan noted he was incredibly happy when he heard his team won. They have applied to exhibit at the Greater San Diego Science and Engineering Fair next month. But they want to change the name of their device from "gun" to electromagnetic propulsion device so as not to confuse anyone they produced a weapon. Added Micha, "In the future, I'd like to help other engineers expand our technology and make improvements on our present mechanical systems."
William Roller, Staff Writer
Imperial Valley Press