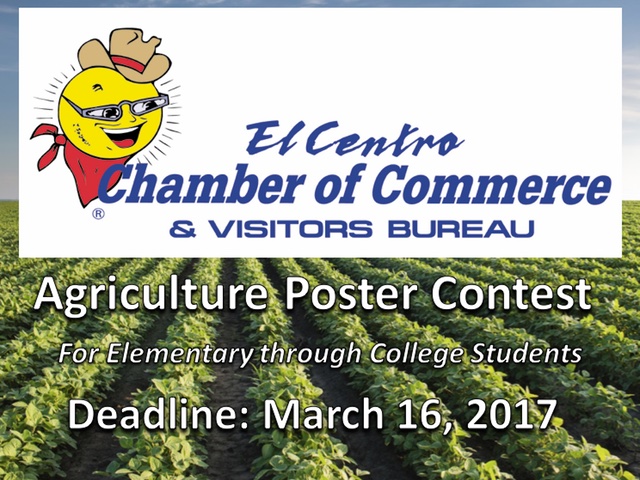 2017 Imperial Valley Agriculture Poster Contest Guidelines 
Overview: The El Centro Area Chamber of Commerce invites all students to submit a poster design that promotes the importance of agriculture in our community. The designs should focus on the benefits agriculture has on our residents, our economy and its impact around the world. 
The winning poster design will be displayed at to be determined location on Interstate 8. There will also be a cash prize of $500 for the winning poster. 
Deadline: All submissions must be received by Friday, March 16, 2017. 
Eligibility: All current Imperial County school students in all grades (K-12 and college) may participate. 
Awards: 
 Winner will receive $500 cash prize. 
 Design will be displayed at to be determined location on Interstate 8. 
Guidelines: 
Theme: This contest allows students to send a message about the importance of agriculture in our lives. Designs should highlight what students feel is most important about the role agriculture plays in our community. 
Design Specifications: 
 Posters should be no larger than 24 X 36 inches. 
 All entries become property of the El Centro Area Chamber of Commerce. 
 Posters must be the original work of the individual student. Original work is created by the student and shows a fresh, new idea. Students should be made aware of copyright protection. (See Copyright section.) 
 Acceptable tools of drawing / painting include pencil, crayon, water color, oil paint, computer drawing, etc. Photographs, wires, and other 3D objects are not acceptable. The completed artwork must be on a flat piece of paper. 
 The drawing / painting must not represent any particular individual, business, or brand name and must not depict any religious theme. 
 Name and age of participant as well as school's name and address must be clearly mentioned on the back of poster in the English Language. 
 The theme "Agriculture in Imperial Valley" should be the main focus of the poster. 
 Posters should be submitted flat and not rolled. 
 Do not include any information on the front of the poster that can identify you (Picture of yourself, name, etc.) Remember, put this information on the BACK on the slip provided by the ECAC! 
Copyright: 
Copyright is a protection by U.S. laws for the authors and creators of original work. A copyright protects the particular manner of expression of ideas, but not the ideas themselves. 
Example: You can make a poster using cartoon characters that talk about soil and water conservation in comic-strip fashion if the ideas are yours (this main idea cannot be copyrighted). But if classmates recognize your cartoon characters as popular characters, then your work is copied from the original artists. Remember to use your imagination because your own ideas are the BEST! 
What makes a good poster? 
 A brief, catchy message; one theme that can be read in 10 seconds or less 
 A slogan telling viewers to do something and making them want to do it 
 Use of colors and white space to get and hold attention 
 Letters large enough to be easily read and words separated enough to read them quickly 
 Planning ahead! Don't wait until the last minute and rush through it- neatness counts! 
Avoid these poster faults: 
 More than one theme 
 Too busy – too many and/or too scattered pictures or words 
Criteria for Judging: Winning designs will be selected based upon their artistic merit, originality, and creativity in incorporating agriculture theme into both textual and design elements. 
How to Submit Entries: 
Attach a label on the back of each printed submission which includes: 
o Student name 
o Student school and grade level 
o Student email address and phone number 
Entries must be received by mail by Friday, March 16, 2017. Send submissions to: 
ATTN: Agriculture Poster Contest 
El Centro Area Chamber of Commerce 
1095 S. 4th St 
El Centro, CA 92243