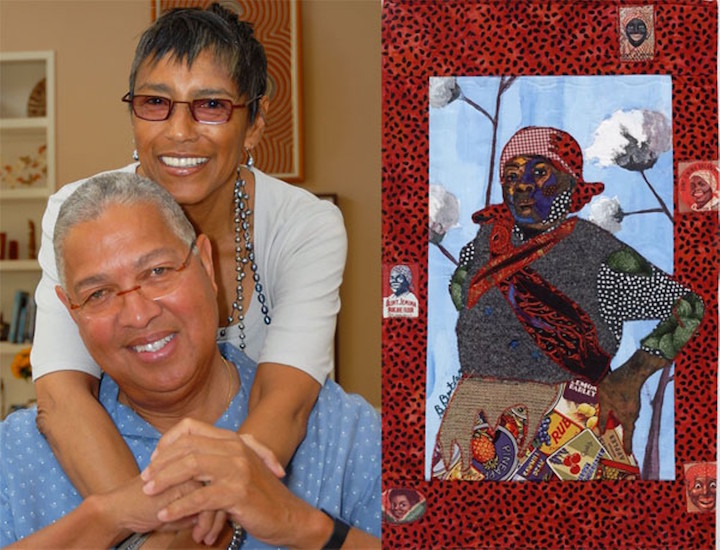 El Centro – The Imperial County Office of Education is hosting a community event to showcase The Kinsey African-American Art and History Collection on Tuesday, October 25, 2016 at 6pm in the SHS Jimmie Cannon Theater.  Both Mr. Bernard Kinsey and his wife Shirley will be in attendance and will speak on the topic of where art and history intersect. 
The event on Tuesday evening will begin at 6pm and is designed for the community at large, especially parents and community leaders.  Mature students are welcomed, but child care will not be provided.  The following day, the Kinseys will be working with local educators at a training specifically designed for History, Art and Social Studies teachers.
It has been said that Bernard W. Kinsey has led many lives in one. Described as an "aggressive achiever" by the New York Times, Kinsey has traversed the corporate, private, philanthropic and entrepreneurial landscape in a way that appears seamless. He says that he lives his life based on two simple principles; to whom much is given, much is required and living a life of no regrets and that is evidenced in his endeavors, accomplishments and lifestyle.
Bernard W. Kinsey is the president and founder of KBK Enterprises, Inc., a management consulting firm with extensive experience and success providing advice and counsel to senior-level executives. He has consulted on economic development with the governments of South Africa, Germany, the U.K., and France and was appointed Honorary Consul General by the U.S. State Department and the Central African Republic. In his role at RLA, Kinsey led L.A.'s rebuilding efforts after the 1992 civil unrest. He was responsible for generating more than $380 million in investments from the private sector for inner city Los Angeles.
Kinsey also enjoyed a 20-year association with the Xerox Corporation and was one of the pioneers in breaking down racial barriers in corporate America. Holding a multitude of C-level positions, Kinsey holds the distinction of achieving number one status in every sales and marketing position he has held from 1968 through 1984. His leadership of the Xerox Black Employees Association led to the hiring of thousands of black employees, women and Latinos and is the subject of a Harvard Business School case study.
For the past 7 years, Bernard Kinsey and his wife Shirley have focused their attention on The Kinsey Collection, their national touring museum exhibit of African American art and history dating back to 1600. The collection has been viewed by over 3 million visitors, was on display at the Smithsonian National Museum of American History in Washington, DC and is currently on national tour in a partnership with Wells Fargo. A portion of the exhibit is also on display in the American Adventure Pavilion at Epcot, Walt Disney World in Orlando, Florida through 2016. The Kinsey Collection book was adopted by the Florida Department of Education for African-American curriculum to be taught to students in grades K-12 statewide.
Mr. Kinsey received his bachelor's degree from Florida A&M University (FAMU) and his MBA from Pepperdine in 1973. He has received honorary doctorates from both FAMU and Alabama A&M University. An ardent supporter of his undergraduate alma mater, Mr. Kinsey has raised millions of dollars in support of scholarships and the alumni association at FAMU, as well as grants for African-American mid-career artists.  Bernard and Shirley Kinsey are extensive travelers and consider themselves students of world history and culture.
The community of Imperial Valley is invited to learn how The Kinsey African-American Art and History Collection brings new understanding to the untold story of many of our country's citizens.  Learn more about The Kinsey Collection, an exhibit amassed by Bernard and Shirley Kinsey containing authentic artifacts, documents, books, letters, manuscripts, and photographs documenting the African American experience from 1595 to modern day.  This collection is a labor of love for the Kinsey family, and they want to share its story of connection to American History and art with our community. 
The event on Tuesday, October 25th at 6pm, is free to the public and will include a reception and a book signing.  More details about the Kinseys, their artwork and the Kinsey Foundation can be found at: http://www.thekinseycollection.com