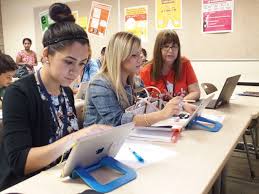 Ten-year-old Chanakya Valmiki sat between two seasoned educators, his eyeglass lenses reflecting the blue glare of the interactive iPad screen in his hands.
Pine Elementary third-grade teacher Mary Davis sat to his right and Imperial High Spanish teacher Maria Melgarejo sat to his left, looking on and learning as the smallish, well-spoken Sunflower Elementary student discussed the benefits of using the latest technology in the classroom with a level of familiarity and authority beyond his years.
"It's really neat how you can use technology to help kids nowadays to improve their minds," Valmiki said, his fingers never stopping. "It's also good for state testing preparation. You can use math apps, science apps — any subject, really — to contribute to education."
While Valmiki is certainly highly advanced for his age from a developmental standpoint, he is very much like other students of his generation — well-versed and fascinated by state-of-the-art gadgetry.
The heightened application of such gadgetry in schools across the country was the talking point of this Saturday's Tech de Mayo learning conference, a joint venture between the Imperial County Office of Education and Imperial Valley College, where the event transpired. Motivated by the potential of technology to improve instruction and to better prepare students for successful futures in higher education and the global workforce, the ICOE hoped to provide a day filled with new ideas and inspiration.
The response from educators — to whom the conference was primarily geared — has been consistently strong and positive across the board, said Alan Phillips with the ICOE educational technology department.
"It's really a day to bring teachers together who are interested in furthering their knowledge and use of technology in the classroom and giving them a variety of opportunities to hear from other colleagues and professionals in the field and to get some training that will help them," said Phillips, who gave one lecture earlier in the day — a Google Forms-based seminar amusingly entitled "May the Forms Be Ever in Your Favor."
"There was a nice buzz going on around the place and everybody's pretty happy with how it's gone," Phillips added. "We have a variety of the types of sessions that are of interest to different people and their needs and levels of tech use."
"We just got the Apple grant out at Pine for (kindergarten through eighth grade)," said Davis, who encountered Chanakya and Melgarejo sitting in on Susan Millán's "Using the iPad for Differentiated Instruction" seminar. "It's very exciting. This class provided us with lots of new information, new ideas to implement."
"We're starting to see the adoption of technology integration at a pretty fast pace now, so one of the things that's exciting about (Saturday's) event is that in the past, we would hold these events and it was to talk about what could be possible in the classrooms," related Todd Finnell, Imperial County superintendent of schools.
To put it into perspective, when the forbears of this event first came to the Imperial Valley just over a decade ago, laptops, email accounts and two-computer classrooms were not the ubiquitous, taken-for-granted features found in schools today.
By contrast, Saturday was "about showcasing what's being done in the classrooms in Imperial County by teachers in the present," said Finnell.
"So, really, the focus is on how we share those practices, those strategies with other teachers, so that students throughout the county have access to a technology-rich learning environment," he said. "I think most of us adults here all wish we could go back and find that in the classroom when we were growing up."
All told, there are 27 different breakout sessions made available to do just that over the course of the four-hour day. Some 200-odd educators, administrators and students signed up and sat down to make the most of these courses, whose subjects ranged anywhere from mastering digital spreadsheets and PowerPoint to robotics engineering, which has seen great success at De Anza Magnet School through the STEM program.
ICOE partnered for the first time this year with the Student Film Festival, which kicked off the morning with an awards ceremony. Among the notable winners were "Average Life," a Calexico High-produced film, which took home the "Most Creative" prize, and "Insecurities." The Brawley Union High-made short film won "Best Short Story."
Michael Dukes
Imperial Valley Press
Staff Writer Michael Dukes can be reached at 760-337-3440 or at mdukes@ivpressonline.com