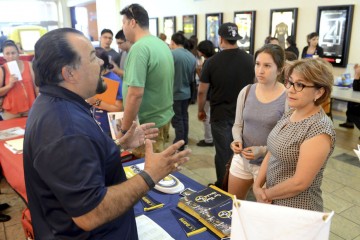 Among the tables and talk of higher education, parents and students got information that will lead to the students' future plans.
About 250 to 300 parents and students were expected at the Higher Education II Parent and Students Night, held Thursday at the Imperial Valley Mall in El Centro.
Parents are an integral part of a student's higher education decision, and the forum was opened for both parents and students to ask questions, said Denise Cabanilla, director of Higher Education Educational Services. There were 25 schools represented, including in-state public and private institutions, out-of-state schools, career technical education and art schools.
"We understand parents and students have different questions, so we always like to allow the parents to have the opportunity to ask questions of universities. The thing I appreciate the most is parents and students working together, talking to the same representatives, hearing the same information, and then you see them talking about what they heard. …This provides the forum for that."
Denise Cabanilla, director of Higher Education Educational Services
Why did you go to the Higher Education Week II Parent and Student Night?
"I came out to get more information and find out more about the universities. I'm going to be a senior so I need to start looking ahead to the future."
Rebeca Larios, Central Union High School junior
"I came to ask questions about my future. I got into Chico State, and I want to ask about policies."
Estephen Gonzales, Holtville High School senior
"I know she wants to go to college after high school, so we want information about colleges. It's so we can direct her in the right path in the career she wants. I don't want her to go to waste her time at a junior college if she can get what she needs at a university."
Sonia Valenzuela, parent of Central Union High School junior
"I wanted to be informed in what I want to do in the future. I'm interested in aviation. One of the opportunities I saw here is Southern Utah University. The school mainly focuses on aviation and engineering. I think it has many opportunities."
Christopher Anzaldo, Central Union High School sophomore
Elizabeth Varin
Imperial Valley Press
Digital Media News Editor Elizabeth Varin can be reached at evarin@ivpressonline.com or 760-337-3441.