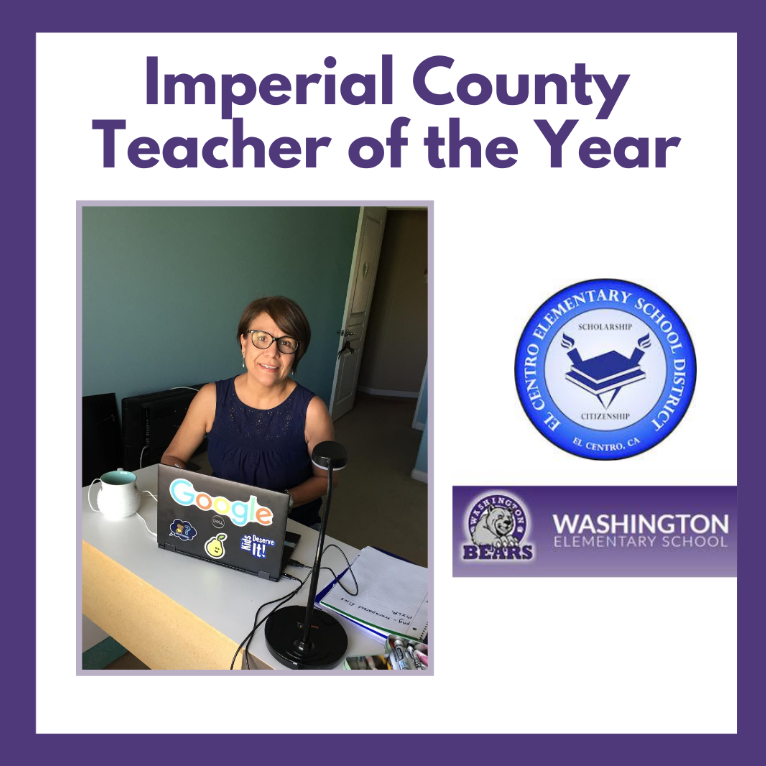 El Centro – Third grade teacher from the El Centro Elementary School District, Norma Villicaña, has been selected as the Imperial County Teacher of the Year, for this coming school year. 
Mrs. Villicaña has taught for a total of 16 years, most of which has been at Booker T. Washington Elementary in El Centro.  Mrs. Villicaña was also recognized recently by the local chapter of the Association of California School Administrators as one of the Imperial County teachers of the year as well. 
Prior to teaching, Villicaña was a social worker with the County of Imperial for over 10 years.  Her career change was prompted when she volunteered in her children's classes.  "I just fell in love with teaching, it seemed so inspirational!" noted Villicaña.  A change that proved to be a great decision for her and countless students who've passed through her classroom doors. 
Based upon Imperial County's student enrollment of 38,000 for grades Kinder through 12th grade, the Imperial County Office of Education can nominate one local teacher to the California Department of Education to be considered for the California Teacher of the Year Program.  If selected as one of the California's Teachers of the Year, Mrs. Villicaña would be showcased as a shining example of the over 300,000 teachers in the state!  Annually, the CDE selects five teachers to serve as California's Teachers of the Year from the nominations they receive from county offices of education throughout the state. 
In Imperial County, a committee at the County Office of Education is tasked with recommending a single nominee to represent the outstanding work of Imperial County teachers from the nominations received from school districts county-wide. 
Mrs. Villicaña is an alumna of both IVC and SDSU here in Imperial Valley.  Norma and her husband live in El Centro with their youngest son, they have two adult children as well.