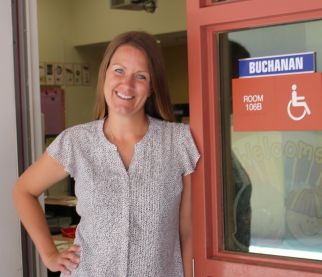 Winterhaven – When third-grade teacher Leah Buchanan arrives at San Pasqual Valley Elementary School each day, she knows that having a good set of lesson plans is only part of what her students need. 
Education is more than reading, writing and arithmetic – especially in difficult communities like Winterhaven where over 94% of the student population come from low-income households and shockingly, 75% of these students have experienced some sort of trauma.  It is this tough environment that Buchanan has signed on to be a teacher.  She along with her colleagues at San Pasqual Valley, one of Imperial Counties smallest unified school districts, are fighting on the frontlines in a battle for student learning.     
When asked about her philosophy of teaching, the NAU grad explained that in short, she believes all students can achieve.  "Even though I cannot control the world outside my classroom, I can provide for them when they are here," commented Buchanan.  "This is what is so rewarding.  Teachers get to make a difference in a child's life. Being in a small district is even more special for these bonds.  I'm steps away from the middle school and the high school; I get to see students throughout their school career." 
Leah Buchanan was recently named Imperial County's Teacher of the Year by the Imperial County Office of Education and was also nominated by Dr. Todd Finnell, County Superintendent of Schools to the California Department of Education to represent Imperial County in the state-wide teacher of the year selection process. 
Buchanan has also taken a lead in the new state-wide science standards.  Commonly referred to as the Next Generation of Science Standards, Ms. Buchanan recently assisted the Imperial County Office of Education with the State Rollout of the standards to local educators.  She was one of the lead teachers in the recent training where Imperial County teachers were able to experience the new curriculum. 
"We are designing lessons that have students collaborating, creating, critically thinking and communicating their ideas" commented Buchanan.  These 4-C's have changed the way Buchanan and many other teachers run their classrooms.  Sitting in rows and listening to the teacher is a thing of the past.  "Students can learn from experience and from each other," noted Buchanan. 
As Buchanan's nomination application rests with the State Teacher of the Year committee, the verdict is already in with the students and families of Winterhaven (and Imperial County) – Leah Buchanan is their teacher par excellence.