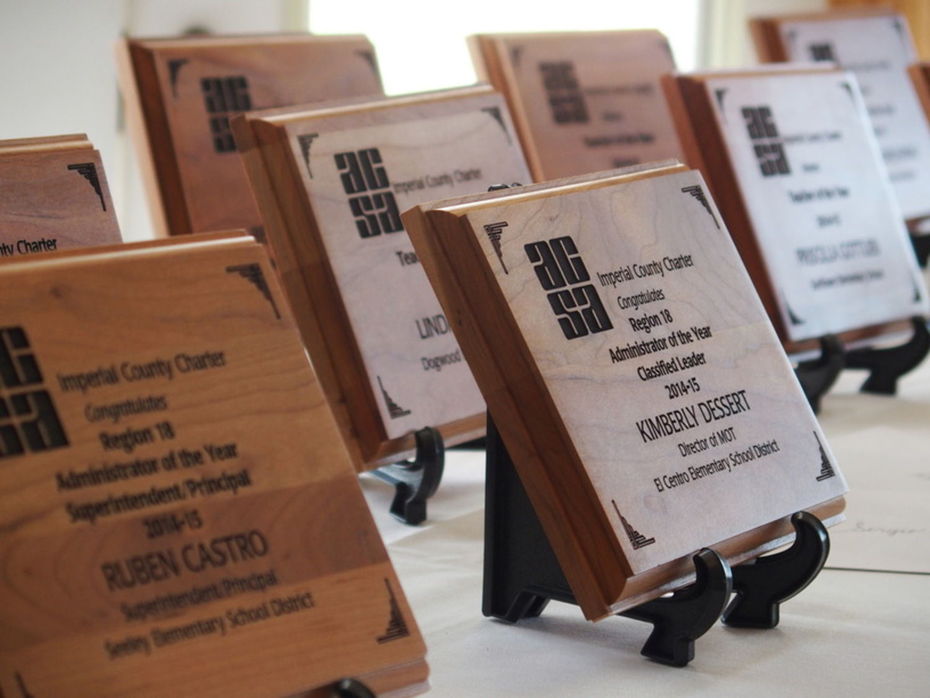 Every day across the nation and the globe, a special group of men and women play a key role in the growth and development of children.
While at times, the efforts of these men and women can go unrecognized, there is a time to say "thank you" and celebrate their work.
In the U.S., May 4 through 8 is designated as Teacher Appreciation Week and on Thursday night, Imperial County celebrated the efforts of local teachers and administrators at the annual Teacher of the Year awards dinner.
The Old Eucalyptus School House was filled with nearly 400 local educators, administrators, board members and family members for the event.
This year, 13 teachers from seven different school districts earned the honor of being called "Teacher of the Year."
Priscilla Gottlieb, a kindergarten teacher at Sunflower Elementary School in El Centro, was one of the event's honorees and noted the importance of the event.
"Teaching is both extremely challenging and rewarding," she said.
Gottlieb, who has been an educator for 31 years, has spent her entire career at the elementary-school level and said her love of teaching and children has kept her there.
"There is never a dull moment when you are working with kindergartners," she said. "Everything is new and exciting for them. Even when I introduce something simple like insects, they get so excited. Right now they are in love with ladybugs."
Gottlieb said she found the teacher of the year honor an overwhelming and wonderful experience at the same time.
"I'm just glad to see the community so supportive of one another," she said.
Traci London, a teacher at De Anza Magnet School, was also honored at the event as one of the 13 teacher of the year award winners.
The kindergarten teacher said it was awesome to see the large crowd gather for the event, where those gathered were entertained by the beats and sounds of the Heber School Drumline.
"It's wonderful because some of the teachers being honored are friends of mine and people that I have worked with," said London.
London has worked in education for 20 years and has been at De Anza Magnet for seven, stating her motivation is seeing her students learn.
"The first few months with kindergartners, you are like their second mother," London said. "There are a few tears, but then they begin to learn and seeing that growth is very exciting."
Juan Cruz, president of the Imperial County Charter for the Association of California School Administrators, said this was the largest crowd the event had seen in recent years and indicative of the support teachers have among each other.
"It's just a great event to celebrate teachers and administrators in the community for all the work they do," he said.
2015 Teachers of the Year
Nydia Hernandez, San Pasqual Valley Elementary
Traci London, De Anza Magnet School
Blanca Lopez-Frias, ICOE Alternative Education
Lizbeth Pena, Brawley Union High School
Jessica Ortega, Heber School
Anthony Arevalo, Holtville Middle School
Corine Caloca, McKinley Elementary School
Bethany Shirley, T.L. Waggoner Elementary School
Ernesto Valenzuela, Hedrick Elementary School
Karina Montano, Jefferson Elementary School
Linda Escobar, Dogwood Elementary School
Priscilla Gottlieb, Sunflower Elementary School
Patricia Medina, Cesar Chavez Elementary School
2015 Administrators of the Year
Ruben Castro, Seeley Union School District
Simon Canalez, Brawley Union High School District
Kim Dessert, El Centro Elementary School District
Deborah Montoya, Imperial County Office of Education