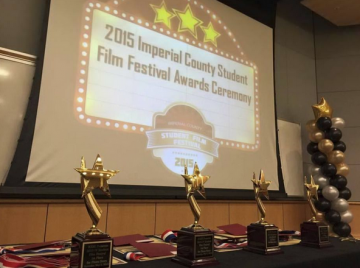 As the arts continue to grow in the Imperial County, so has the stage for budding artists to shine.
From art shows at local schools to murals that decorate city walls, the arts are definitely on the rise.
In addition to showcasing their drawings and paintings, young artists now also have to opportunity to share their talents in acting and filmmaking.
For the second year in a row, the Imperial County Office of Education organized a student film festival, which was open to local fifth- through 12th-graders.
The festival's open theme allowed for students to creatively produce original works in the photo stories, public service announcements and short stories categories.
About 40 entries made their way before the judges and reflected the concerns of today's youths with topics including social media and poverty.
After reviewing the entries, the judges recognized the top two entries in a total of five categories and announced the winners on Saturday at Imperial Valley College during ICOE's technology festival.
Present for the awards ceremony were two fifth-graders from Sunflower Elementary School in El Centro, who entered their project, "The Homeless Project," in the photo story category in the elementary school division.
"Our teacher, Mrs. (Susan) Millan told us that we were finalists in our category, but that was it," Nancy Cuellar-Chavez said.
Nancy said she was surprised, extremely excited and even a little embarrassed when her group was announced as the winner of its category and the photo story was displayed for everyone to see.
"I just kept thinking, 'Oh my gosh, that's our photo story up there,'" the 10-year-old fifth-grader said.
Riya Patel, who was unable to attend the ceremony, said she was also excited at the team's win.
Riya's group members said she was instrumental in encouraging them to continue with the project even when they wanted to quit.
"We hope that people learn something," said Riya, an 11-year-old fifth-grader. "We hope people see that homeless people deserve our respect and should be treated equally."
Natalia Rodriguez said she enjoyed working on the project as a group and of course earning a trophy, medal and certificate.
The group members said they felt comfortable creating their project on an iPad, as they utilize it in class almost every day.
"Mrs. Millan is a great teacher," said Natalia, an 11-year-old fifth-grader. "She told us what we needed to add to make ours better."
Richard Salgado, the media technician at ICOE, said considering the ages of the applicants, their work was impressive.
"This year there was a lot of improvement," he said. "It's amazing because some of these students just used their cellphones or digital still cameras."
Salgado said he hopes to see the festival and participation grow each year.
"I was completely impressed with the submission and I hope to see some of these young filmmakers compete at (Imperial Valley Film Festival) and continue to be creative and not let anything get in their way," he said.
2015 Imperial County Student Film Festival winners
Watch the 2015 film festival winners in each category at:
http://filmfestival.icoe.org/2015-results.html
High School Photo Story
Top 2:
"On Your Marks" Holtville High School – Oriana Salazar – Lisa Natwick, teacher
"Becoming an Older Sister" Holtville High School – Maria Orozco Murrieta – Lisa Natwick, teacher
High School PSA
Top 2:
"Hate Against Humanity" Imperial High School – Richie Robles, Evan McDowell, Kyron Copp – Yvonne Keaton, teacher
"Hashtag X" Brawley Union High School – Brittany Moreno and Steven Ruiz – Albert Padilla, teacher
High School Short Story
Top 2:
"Insecurities" Brawley Union High School – Richie Robles, Evan McDowell, Kyron Copp – Albert Padilla, teacher
"Average Life" Calexico High School – Elaisa Jane Tango-an, Emily Swaim, Leslie Gonzalez, Nanina Swerdfeger – Alex Jaime, teacher
Elementary Short Story
Top 2:
"Dread-Locked" Enrique Camarena Junior High — JeZai Torres, Albert Acuna, Brandon Acuna, Joel Carrillo – Carlos Duarte, teacher
"Power Puff and Mr. Rufus" Hidalgo Elementary — Bruce Ybarra, Tylor Lyster, Kylea Shehan, Chloe Casey, Laisa Sandoval – Mindy Phillips, teacher
Elementary Photo Story
Top 2:
"The Homeless Project" Sunflower Elementary – Riya Patel, Natalia Rodriguez, Nancy Cuellar-Chavez – Susan Millan, teacher
"Armed and Ready" Sunflower Elementary – Darin Mesday, Christian Campos – Susan Millan, teacher
Karina Lopez
Article Reprinted Courtesy of Imperial Valley Press
Staff Writer Karina Lopez can be reached at 760-337-3439 or klopez@ivpressonline.com