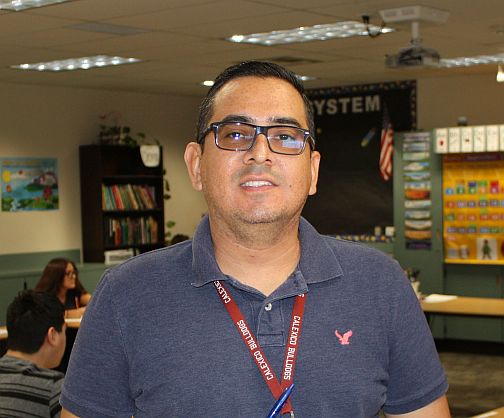 Teaching by Day, Dialysis by Night
Calexico – The first indication that there was a problem was in 2010 when Francisco Nuñez, a teacher with Imperial County Office of Education's Special Education program, fainted in class and woke up in the hospital.  Tests would later confirm kidney failure which eventually led to almost daily dialysis treatment for the teacher.  In 2017, almost seven years later, Nuñez's salvation came in the form of a kidney transplant from a familiar source – his wife. 
Nuñez has worked for ICOE his whole professional career.  Starting in 1998 with the AmeriCorps program, he was placed at various special education classrooms throughout Imperial County assisting classroom teachers.  Initially the veteran teacher had envisioned working in the health care industry and even became a Licensed Vocational Nurse.  But the call to the classroom and specifically to students with special needs was too strong to ignore.
Located in a classroom on the Calexico High School campus, Nuñez's students range in ages from 17-22 years old and have disabilities such as autism and downs syndrome.  "It's rewarding to work with our students because when we make progress it really changes their lives and the lives of their families" commented Nuñez when reflecting the work of special education teachers. 
A good example of that rewarding work is the number of students in Nuñez's class that participate in the Workability Program.  A vocational program that trains students with disabilities to have work related skills, then places them in local businesses, restaurants, and stores around town.  Students are employed, earn a paycheck and provide valuable services to local businesses.  One such example a few years ago was with Banana Republic .  Meaningful work with purpose is important for these students and they likely get that from their teacher.
During the darkest days of his kidney battle, Nuñez would work all day as a teacher then go to a clinic in the evenings for dialysis treatment (a four-hour procedure).  Working with these students and teaching throughout his illness was a priority for Nuñez.  Now, months after his successful kidney transplant surgery, Nuñez savors the little things that many of us take for granted.  The work Nuñez does for students and their families in Calexico will never be taken for granted.  Francisco Nuñez is ICOE Amazing!
Francisco and his wife, Carolina, live in El Centro with their three children.