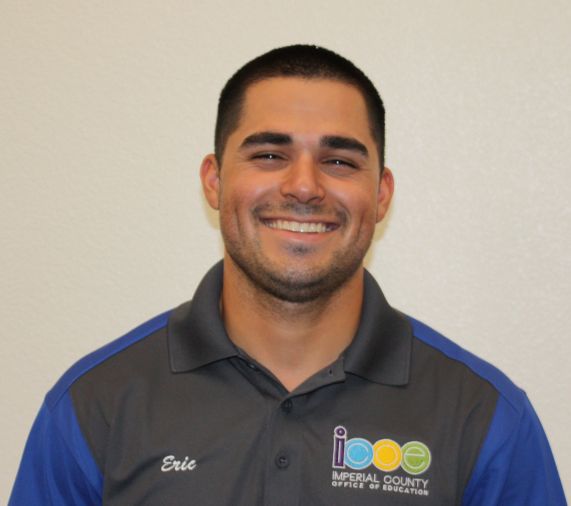 Heber – With a pep in his step and a permanent grin on his face, Eric Licea briskly walks the hallways at Imperial County Office of Education (ICOE) with an enthusiasm for work and life.  Hired three years ago as a Custodian, Eric's shift starts at 6am and a typical day has lots of variety.  This suits the Calexico native just fine as he enjoys the interaction with other ICOE staff.
"The environment is awesome!" exclaimed Eric, "Everybody is happy when they see me, makes me want to go to work every day."  Although whether that's because Eric's arrival often means that something broke is about to be fixed, or just his infectious smile – is still up for debate.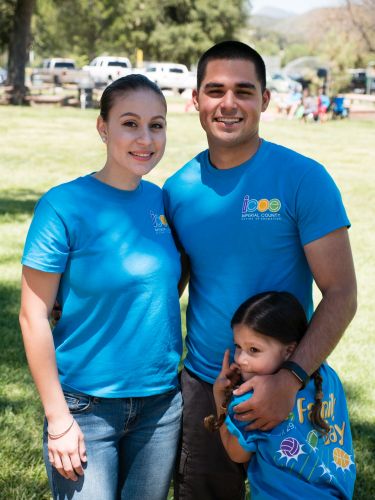 Eric and his wife, Saray, are both students at Imperial Valley College.  His wife is in the Licensed Vocational Nursing program, while Eric is pursuing a double major in Business Administration and Social Science.  Eric's plans are to quickly transfer to SDSU's extension campus and obtain a bachelor's degree in Public Administration once he graduates from IVC this next year.  Eric and Saray have a young daughter, Madelyn, and they live in Heber, close to Saray's family who love to babysit Madelyn when the young couple work and attend school. 
For the Liceas, Sundays during the fall are always spent at Eric's parents' house in Calexico, where they've watched every Pittsburgh Steelers football game for the past 5 plus years, together as a family.  Eric and his father, whom he says is also his best friend, are avid Steeler fans and enjoy watching and talking sports together.  Eric's love for the Steelers, family, work, and school – all mesh perfectly with ICOE's mission posted on the back of every business card which is to:  Improve the quality of life in our community by promoting strong families and students who are prepared for life, college and career.
Trivia Champion
At the recent ICOE all-staff Welcome Back Event, Eric put on quite a display of organizational knowledge.  (Some would say - a little too good a display)  In the end we guess it's wise to be a good listener and soak up knowledge like a sponge.