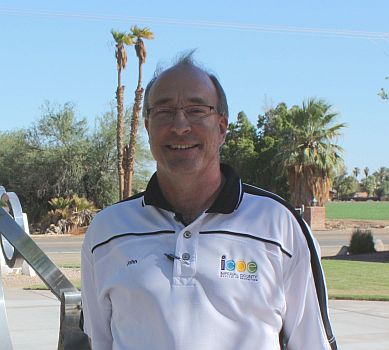 El Centro - While most of his neighbors were enjoying a recent rain storm, John Lazarcik was taking pictures and posting videos on Facebook challenging colleagues to explain the phenomena of water falling from the sky.  As the STEM Coordinator for Imperial County Office of Education, Lazarcik has been a key leader locally for the changes that are happening in science standards and how science is now taught to students.
Born and raised near Milwaukee, Wisconsin, Lazarcik made his way out to California and Imperial Valley by way of US Gypsum, the company that runs Plaster City. It operates one of the largest gypsum plants in the western hemisphere and manufactures dry-wall. They needed a mining engineer, and Lazarcik was their man for several years. It wasn't until a chance meeting with someone from Holtville when John was informed that Holtville Middle School immediately needed a science teacher. John promptly went to fill out an application that day (a Friday), and by Tuesday he was in the classroom teaching kids.
Teaching came natural to the kind-hearted Lazarcik who at 6'5" towered over the middle schoolers in his classrooms. Before coming to ICOE, Lazarcik taught in Holtville for a couple years and then at Kennedy Middle School in El Centro for 16 years. In conjunction with Lazarcik joining ICOE, science education in California has changed significantly as well.
"Science teachers today are challenged to ask questions of their students verses the old model of dictating the information they needed to know," commented Lazarcik. With the recent roll-out of new state standards for science education in California, commonly referred to as NGSS, Lazarcik has been on the forefront of changing how Imperial County teachers teach science. "We want kids to discover and explain phenomena of all sorts, like why water falls from the sky once or twice a year in Imperial Valley," laughed Lazarcik when asked about his excitement over Hurricane Rosa's recent deluge of a half-an-inch of rain.
John lives in El Centro with his wife, Robyn, and his two daughters, Lyndsay and Lauryn. He's also an avid Green Bay Packers fan and especially a fan of the Milwaukee Brewers now that they're in the playoffs, which is a phenomenon in-and-of-itself.