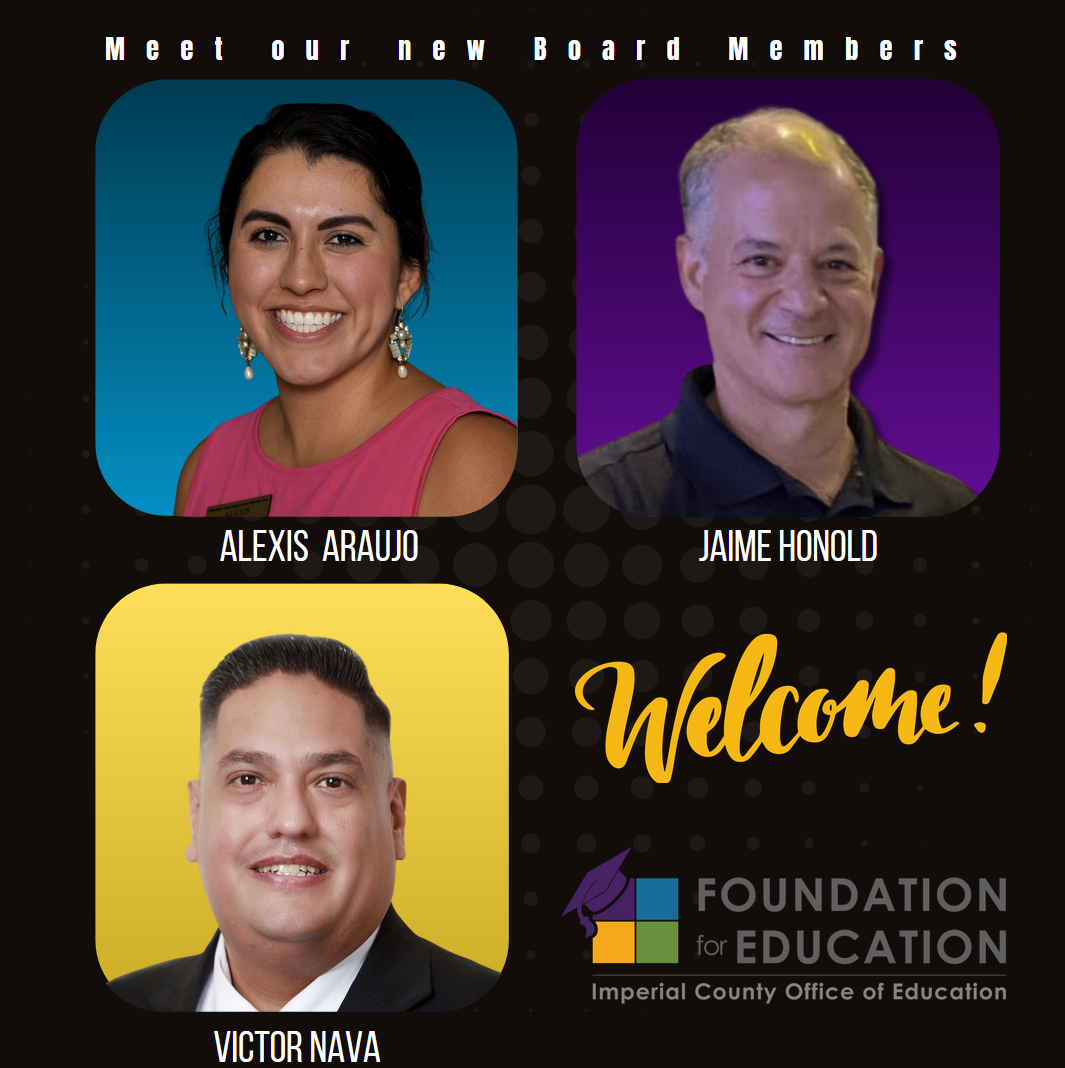 ICOE's Foundation for Education Welcomes Three New Board Members
Alexis Araujo
Payless Auto Insurance, Operations Manager

Ms. Araujo graduated from Point Loma Nazarene University with a bachelor's degree in business administration. She serves as the Operations Manager at Payless Auto Insurance Broker and is a proud Imperial Valley native who greatly enjoys serving our local community. Ms. Araujo has volunteered her time with organizations such as MANA, Boys and Girls Club, IVROP, ICOE's Migrant Education Program, IVC Business Program, and Chamber of Commerce. Ms. Araujo currently serves as vice-chairwoman of the board at First Imperial Credit Union.
Jaime Honold
Burgers and Beer, Co-Founder

Mr. Honold is the co-founder of Burgers and Beer. An active member of our community, Mr. Honold has been a Rotary member since 1989. He served as President of the El Centro Chamber of Commerce from 2013-14 and is a Past Chairman of the Imperial Valley Community Foundation. Mr. Honold is a Board member of the Diocese of San Diego Community Foundation and President of Friends of Cetys Foundation. A member of the Fourth Degree Knights of Columbus, Mr. Honold is married to Viviana Carrillo and has four children.
Victor Nava
Gafcon, Inc. Director of Strategy, Development & Partnerships

Victor Nava serves as the Director of Strategy, Development and Partnerships of Gafcon, Inc., a project and construction management company with an office in the City of Imperial, specializing in education and delivering complex projects to support vibrant communities. Victor is an innovative leader with more than 25 years' experience in banking, education, and development. Before joining Gafcon, Victor served as Director of Development and Public-Private-Partnerships (P3) Initiatives at San Diego State University-Calexico. He has taken an active role in the Imperial Valley community for decades, serving on a wide variety of boards, including Clinicas de Salud del Pueblo (now known as Innercare), the Imperial Valley Regional Chamber of Commerce, Accessity (formerly Accion), and he is the past president of the Brawley, Holtville, Westmorland Chambers of Commerce, and the Brawley Rotary Club. As a Valley native, he lives with his wife Maryann, and they are the proud parents of three children who have attended schools in the El Centro Elementary and Central Union High School Districts.
"We are thrilled and honored to welcome these three outstanding community members into the Foundation for Education board," said Dr. Todd Finnell, Imperial County Superintendent of Schools and President of the Foundation of Education. "We look forward to working with our new board members as we continue to support some of our region's most vulnerable students."
The Foundation for Education Board comprises nine community leaders who all share the Foundation's vision and commitment to making Imperial County an ideal place to live, learn, and work.
Together, and with the support of our community, the Foundation strives to make a difference in the lives of Imperial County's students and their families.
Each year, the Foundation for Education scholarship program helps increase college access and success for some of Imperial County's most vulnerable students, including at-risk youth and students with special needs.
The Foundation for Education is planning its third Annual Autumn & the Arts Fundraiser on October 5, 2023 (Autumn & the Arts Flyer). Proceeds from the fundraiser will support the Foundation's Scholarship Program and other initiatives, such as the free summer orchestra camp offered at Southwest High School in July, the Annual Imperial County Arts Festival, and other initiatives.
Please visit foundation.icoe.org for more information about our scholarship program and fundraiser events.
About Imperial County Office of Education:
The Imperial County Office of Education supports local school districts and other agencies by providing services from early care to adult education. For more information, please visit www.icoe.org and follow the official ICOE news feeds on Facebook, Instagram, Twitter, and YouTube.
The mission of ICOE is to improve the quality of life in Imperial County by promoting strong families and students who are prepared for life, college, and career.
Website: icoe.org
About Foundation for Education:
The Foundation for Education is a 501 (c)(3) charitable organization that supports students and educational programs throughout Imperial County. The Foundation is an auxiliary organization of the Imperial County Office of Education (ICOE). It provides funding for countywide student events, innovative projects, student scholarships, and other significant initiatives.
The Foundation focuses on the development and support of the "whole child," with an emphasis on at-risk youth and students with special needs.
Website: foundation.icoe.org