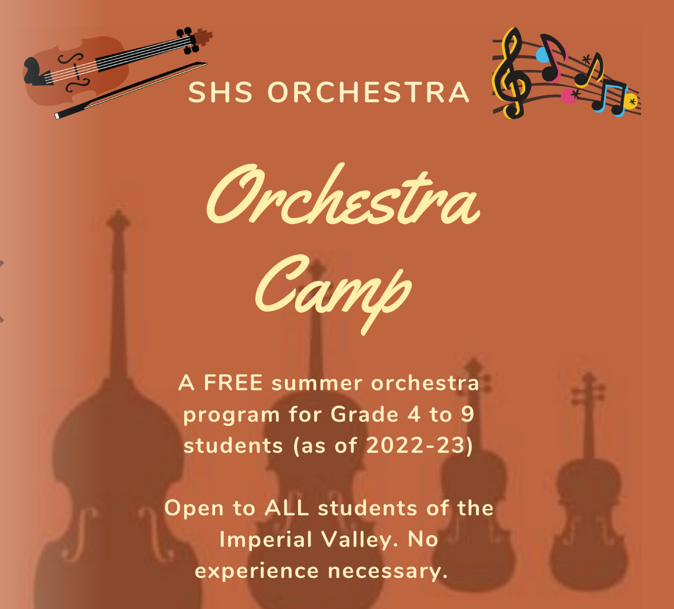 FREE Summer Orchestra Camp
The Southwest High School Orchestra, in partnership with the Foundation for Education, will be offering a FREE Summer Orchestra Camp for students who will be entering grades 4th through 9th in the 2022-2023 school year. The Summer Orchestra Camp will be held July 25-29, 2022, from 12:00 pm to 4:00 pm at Southwest High School's Jimmie Cannon Theater.
This summer program is open to ALL students of Imperial County. No experience is necessary. There will be two levels of instruction: those with no experience wanting to learn a string instrument (Group 1) and experienced students currently enrolled in an orchestra program (Group 2). Students who currently do not have an instrument will be provided one during the summer program thanks to a partnership with the Foundation for Education. Students may choose to play violin, viola, cello, or bass.
While there are countless studies that show mental and cognitive growth in students involved in music programs, students are often unaware of the opportunities available in our schools. One of the goals of this summer orchestra program is to reach out to elementary and middle school students that are not currently enrolled in orchestra programs but have an interest in learning more about the programs available while receiving the hands-on experience of being part of an orchestra. Another objective is to assist existing orchestra students as they take their skills to the next level. Overall, this summer orchestra camp is a unique opportunity to strengthen local orchestra programs.
"Music education opens doors that help children pass from school into the world around them – a world of work, culture, intellectual activity, and human involvement. The future of our nation depends on providing our children with a complete education that includes music." – Gerald Ford
Art is what makes us human and music is a part of that human experience. Music is such a natural part of our lives that to not have the ability to listen or more importantly, create music, deprives our children of the opportunity to feel passion, express themselves in unique ways, or form connections between other subjects and each other. "Being involved in a musical ensemble helps students connect with one another; it also reaches students in ways and methods that are unique and not normally used," said Dr. Matthew Busse, Director of Orchestras and Fine Arts Department Chair at Southwest High School. "Overall, being involved in music programs is more valuable in ways that most do not consider when it comes to educating our youth such as helping students in their cognitive development and teaching them to become self-directed learners. The opportunity to join a school's orchestra program exists in most schools in the Imperial Valley. We are hopeful that this will expand and continue to grow in quality and size."
"The Foundation for Education is excited to support this opportunity to introduce orchestra programs to students during the summer. Music is such an important part of a well-rounded education, and we strongly believe that every child deserves access to high-quality music programs," said Dr. Todd Finnell, Imperial County Superintendent of Schools and President of the Foundation for Education. "To ensure this access, the Foundation for Education is pleased to provide instrument rentals for students that need them. I'm excited to think of the impact this program will have on students, as I know firsthand how important music education was for me."
For more information, check out the FREE Summer Orchestra Camp flyer at
https://bit.ly/orchestra-camp-flyer
Registration is available at https://bit.ly/orchestra-camp