Event celebrates education in the arts
By VINCENT OSUNA, Staff Writer
Imperial Valley Press
Oct 9, 2021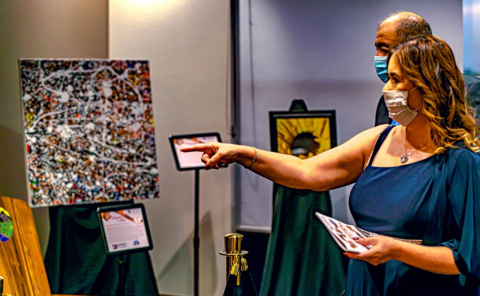 EL CENTRO — Local students, the arts, and education in Imperial County were celebrated during the inaugural Autumn and the Arts fundraiser event Thursday.
Organized by the Imperial County Office of Education's Foundation for Education, the event took place in ICOE's new administrative conference center on Sperber Road.
The event celebrated county students' accomplishments in art, music and culinary arts.
El Centro Elementary School District art students designed and created the decor that hung throughout the center Thursday.
Southwest High School culinary arts teacher Amanda Hill's students served slices of tres leches cake they made on campus.
Across from Hill and her students were Jessie Garcia and her culinary arts classmates at Calexico High School.
The Bulldogs prepared mini Cubanos, picadillo empañadas, tropical shrimp ceviche, and bread and soup for the event's guests.
Brawley Union High School culinary arts students prepared the main course for the event: Cuban roast pork with mojo criollo, Jamaican jerk chicken and pineapple cilantro rice.
The Southwest High School Chamber Orchestra, SAVAPA Music and SAVAPA Dance provided the evening's music and entertainment.
A total of 17 student art pieces, such as paintings and drawings, were on display.
These pieces offered for silent auction during the event, which took place from 6 p.m. to 8:30 p.m.
During his opening remarks, county Superintendent Todd Finnell reminded guests of the significance of the auction bids, as the proceeds went directly toward a college scholarship for the respective artists.
"If you buy one of those pieces, that's a scholarship for that student," Finnell told guests.
By VINCENT OSUNA, Staff Writer
Imperial Valley Press