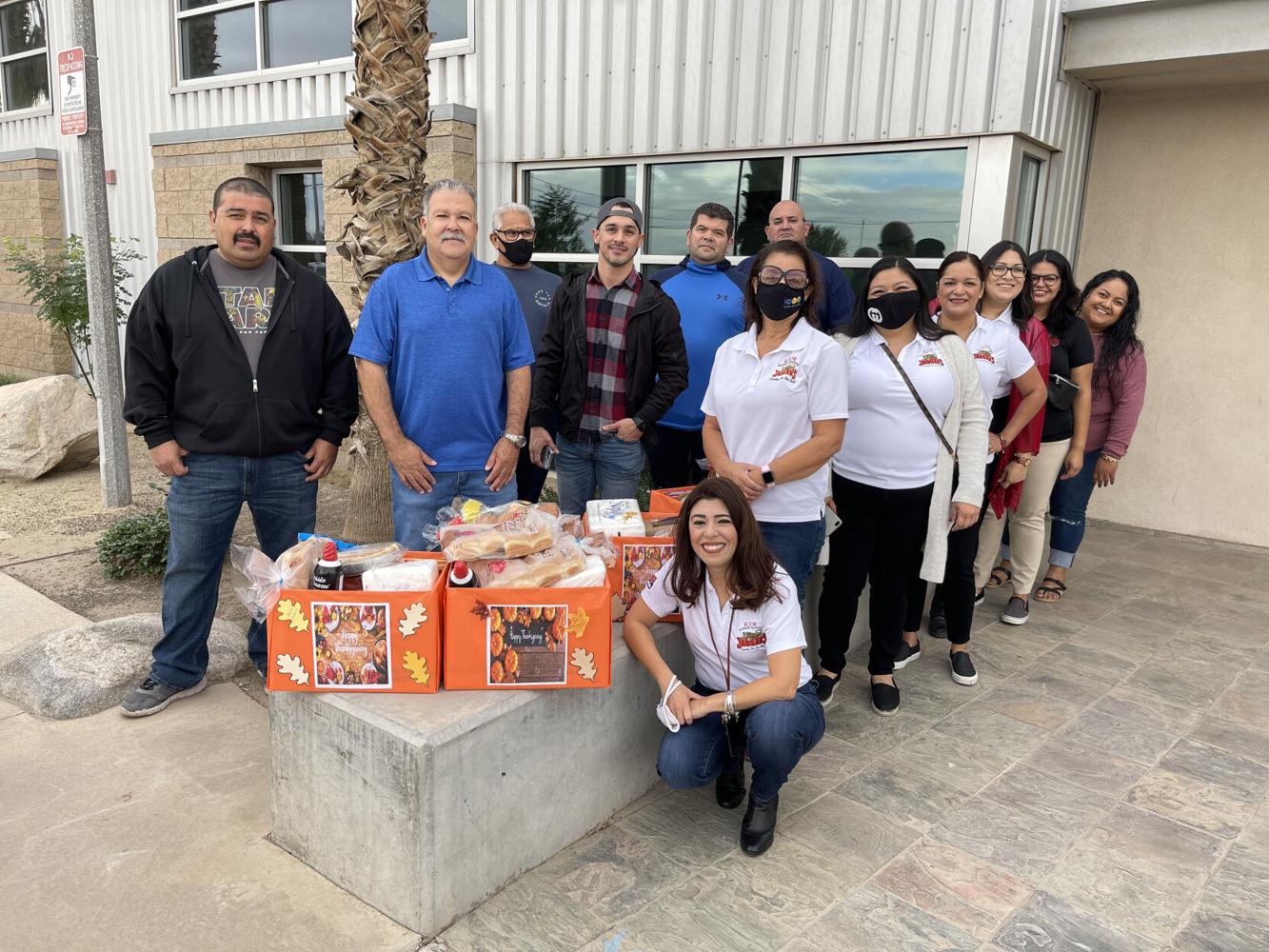 Centinela officers and ICOE partner to help the less fortunate
More than 20 Imperial County families won't have to worry about shopping for their Thanksgiving dinner after donations provided them each with a turkey and a gift box filled with Thanksgiving dinner essentials right to their front door, Tuesday morning.
"It is Mission: Thanksgiving, today," said Jessica Aceves, principal for Imperial County Office of Education, Alternative Education. "We are going to deliver today; we have our lists of families that were recognized by our staff as families with the most need."
Families were selected by members of the ICOE, Alternative Education staff and were selected from each city in the county, Aceves explained.
"We want to feature the generosity of our partnership with Centinela State Prison," Aceves said. "We are thankful for the coordinated efforts of Lt. Mario Alonzo and our Director Monalisa Vitela to bring additional resources to our students and their families."
San Diego resident Alonzo had participated in similar community fundraisers in state prisons he had previously worked for and noticed a need for a similar program in Imperial County.
"I had noticed that no one was helping the community," Alonzo said.
After asking fellow officers from the community for donations, several pointed him in the direction of ICOE Director Vitela as a person to help find his donations a home.
"Mrs. Vitela's name came up because she had helped a couple of the sergeants that used to go to this school," Alonzo said, referring to Imperial Pathway Charter school. "Now they've turned around and they work at Centinela."
In July, Alonzo kicked off the first month of donations to ICOE by sponsoring pizza dinners to three families from each city in the Valley.
"When we drop off pizzas to the families, we make sure to tell the parents thank you for ensuring your kids make it to school," Alonzo said.
As president of the California Correctional Supervisors Organization union, Alonzo was able to get fellow union members to participate in the first round of donations and went on to challenge other officers to pitch in each following month providing toiletries and other essential items for the children and adult students across the county.
"It turned into non-perishable food items like beans, rice, soup and food packages for the families to have at home," Aceves said. "Then it turned into a sock drive for the kids and a sweatshirt drive."
Last month's sweater drive saw 88 sweatshirts passed out to the children and students, Aceves recalled.
ICOE, Alternative Education staff members were inspired by the generosity of the Centinela officers and joined in the Thanksgiving donations providing all the fixings for the dinner including a box of stuffing mix, mashed potato mix, butter, pumpkin pie, whip cream and bread rolls.
Twenty-six officers from the Centinela State Prison A Yard's third watch joined Alonzo in donating the turkeys that were distributed to each family. A few officers and ICOE staff members also helped distribute each turkey and boxes, Tuesday morning.
"I use to work for student well-being as a program specialist here at ICOE," said Centinela Sgt. Antonio Gomez. "I've always helped out the community. … Now that I have the opportunity to give back, I want to take advantage of it."
Calexico resident Gomez was among the officers who joined staff members of the ICOE Alternative Education program at Valley Academy school in E Centor to load Thanksgiving dinner boxes into the cars designated for each family and city, early Tuesday morning.
"There's people who are less fortunate than us, and this gives people hope for them in the future," he said. "They can see that we are not only out there taking care of the prisoners, but we are also taking care of members in the community."
Since school has started, several Alternative Education students have enjoyed Lt. Alonzo's monthly donations, Aurora Suarez, ICOE case manager, said.
"The response from the kids (to the donations) has been really good," Suarez said. "It's been really cool because I've seen students taking care of the sweatshirt that was given to them."
Suarez donated to the Thanksgiving boxes and also participated in the door-to-door distribution, Tuesday morning.
"They are really good kids," Suarez said. "I know most of these kids, and I know they would appreciate something like this."
Beyond the 20 families receiving a Thanksgiving box, two other homeless students within the Imperial Pathway Charter school will be receiving a collection of gift cards to various local businesses and restaurants, said Yolanda Benito, a teacher with the school.
"We got money together to help buy them the gift cards," Benito said. "They are both students nearing graduation within our adult program who needed that type of assistance."
The donations will continue into December as Alonzo's team of Centinela officers will be sponsoring various families selected by ICOE staff to provide their children with Christmas gifts. His officers will also be donating coloring books to certain students so that they can use their donation as a Christmas gift to their younger siblings, Alonzo explained.
"We are going to adopt families for Christmas, and I'm going to challenge other lieutenants at Centinela to adopt a family as well," Alonzo said. "At the prison, when a challenge is thrown, there's no backing down, and I already have calls from other lieutenants who want to join in."
Alonzo said he hopes that by providing officers a way to give back to the community, they will learn to continue this tradition of gratitude whenever he decides to retire.
"There's a lot of people who want to get involved," he said
By CELESTE ALVAREZ
Imperial Valley Press