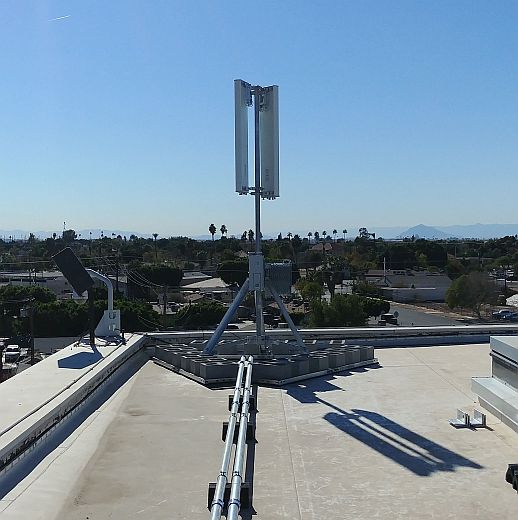 Imperial County – Local students whose families can't afford basic internet connectivity at home will soon be a thing of the past with the recent news that Imperial County Office of Education will be receiving funding to further extend the BorderLink Wireless Network Project to the rural parts of Imperial County. 
The United States Department of Agriculture (USDA) has announced that the Imperial Valley Telecommunications Authority (IVTA) has received eight (8) USDA Community Facilities Grants totaling $840,000.  In addition to the federal funding from the USDA, the IVTA is allocating an additional $360,000 for a total sum of $1.2 million towards the Borderlink Project, which was the focus of the grant proposal. ICOE is a founding member and administrator of the IVTA which operates on behalf of public agencies throughout Imperial County.
"We are very pleased that the USDA selected to fund all of the proposals we submitted on behalf of rural communities in Imperial County," commented Dr. Todd Finnell, County Superintendent of Schools.  "These grants will allow us to expand access in some of our most underserved communities. It's exciting to think of the possibilities that this access will bring to students and families."
Services are expected to be operational in late 2019 in the communities of Calipatria, Heber, Holtville, Niland, Ocotillo, Seeley, Westmorland and Winterhaven.
BorderLink will have a tremendous impact on education, allowing schools to close the "Homework Gap", and provide equitable access for all students.  
The "Homework Gap" refers to the difficulties some socio-economically disadvantaged students face when working on school assignments without a reliable Internet connection at home.  With no Internet connection at home, some students lack the tools they need to succeed academically.  This disparity in access creates an uneven playing field for students who are unable to do online research, collaborate on group projects, or submit online assignments from home.  BorderLink is IVTA's solution to bridge the "Homework Gap."  Students will no longer worry about having the access they need to further their education, engage with other students or teachers, or access their digital curriculum and other resources.  They will have access at home, with the same protections and policies that districts maintain at school. 
BorderLink relies on LTE technology, the same wireless technology that connects mobile phones and devices from all the major carriers.  LTE allows mobile devices such as laptops, tablets and smartphones to be connected to the Internet anytime, anywhere, and at high speeds.  The LTE technology may also connect emergency vehicles, traffic signaling, video surveillance, and many other devices that will change how our municipal and county governments envision and deliver services in the community.
Borderlink is a wireless network that complements the existing fiber optic IVTA network connecting our schools, cities, hospitals and public safety agencies. 
The cutting-edge wireless network funded through this grant is a critical infrastructure that will support first responders in the line of duty -- including firefighters, law enforcement and emergency medical services personnel. BorderLink will be the backbone supporting all law enforcement/public safety mobile applications, ensuring first responders have access to critical data to make informed decisions.  BorderLink will help first responders improve levels of services and reduce response times when responding to opioid abuse related calls, which could save lives.  The network will allow agencies to share vital information more quickly, and more efficiently.
The USDA's overall investment of $10.7 million was awarded to 85 different projects in 22 states through their Community Facilities program which, among other things, targeted the prevention, treatment and recovery opportunities from opioid addiction in rural America.