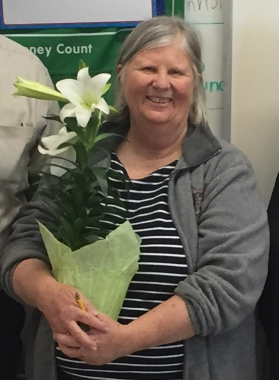 El Centro –The Association of California School Administrators (ACSA) local chapter here in Imperial County recently released the list of this year's Teachers of the Year, and Imperial County Office of Education's Barbara McAndrews is on the list to be honored at a May 17th dinner in El Centro. 
A veteran teacher, Barbara, or 'Barb' as she's known by colleagues, started teaching over 30 years ago at Hedrick Elementary in El Centro. After a few years there, she tried a new adventure and moved to teach in Ventura and Santa Barbara Counties where she was both a teacher and counselor. A move back to Imperial Valley eventually led to her position with ICOE.
"I was recruited by Angie McNeece, who asked me if I had ever considered working with students with special needs," explained McAndrews. The suggestion was a good one as Barb never looked back. She has been working with ICOE's Special Education program for over 10 years and has settled into a sweet spot at Central Union High School. The students at Central's program are still young, just freshman and sophomores, and have a wide range of skills and disabilities. Being so diverse, each one of her students requires an individualized plan for their education, but they also develop a group dynamic as a class during the year as well. 
When asked about memorable moments in her teaching career, Barb noted the recent push for inclusion of her students – especially with the Central staff has been noteworthy. "The track coach, Mr. Shane, came to us looking for one of our students, Antonio Reyes, to join the track team," explained McAndrews. "We didn't go to him initially - he recruited our student." 
That's not all. SELPA's Tiffany Claverie was also very helpful in making a push to get Ms. McAndrews students into P.E. classes at Central with other students. The inclusion has made a difference with her students and to other students at Central as well. The school's Best Buddies club, sponsored by Mrs. Dulce Cervantes, is a club based on the principle of inclusion and is a popular and active club on campus.  There are several other teachers on campus, including the Principal, Mr. Lyon, who have been advocates for the inclusion of ICOE's students at Central. 
A fun side of Barb is her love of her three dachshunds, Dora, Teresa and the boy dog named, Daniel-Phillip-Chester, or DPC for short.
Congratulations to Barbara for being named one of ACSA's Teachers of the Year for 2018!