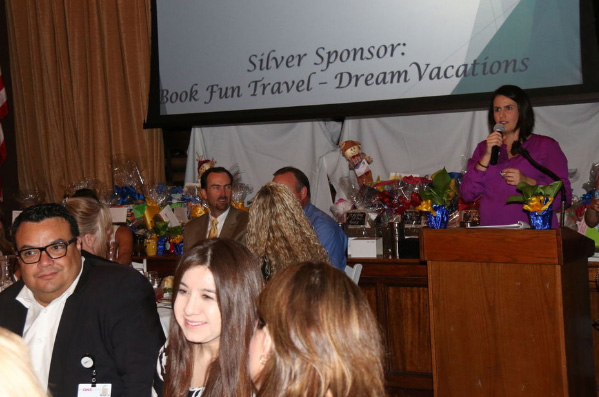 Posted on Sep 16, 2016 by William Roller
BRAWLEY — The fourth annual Back-to-School Teacher's Dinner honored outstanding teachers and supported them with the encouragement their profession warrants to make the most effective instructor they can be at Stockmen's Club here on Thursday.
Hosted by the Brawley Chamber of Commerce, it was funded by many local businesses and institutions. Katie Luna, Chamber executive director, noted the event was an eye opener and thanked donors for their wealth of support. "We all felt the education is crucial to the development of our children in the Valley," said Luna.
For the first time the event recognized three teachers of the year from three school districts: Brawley Elementary and Brawley Union High School districts and Sacred Heart School. Todd Finnell, Imperial County Office of Education superintendent, told a crowd of more than 200 that teachers matter more to student achievement than any other aspect of schooling.
Background and experience are not the best ways to identify effective teachers, and once an effective teacher, those teachers tend to stay effective. "We need to encourage effective teachers and give them support," said Finnell, "Pejorative images of teachers is presented by some in the media. But we need to tell our own story about the great things happening in education, especially in Imperial County. Let's not let others write the narrative for us."
Touting her enthusiasm during her 33 years of teaching, Liz Casey, principal of Phil Swing School, said of the first recipient, Frances Nunez, "that she inspires kids every day and she is the model of critical thinking."
"It's an honor and I couldn't do it without the support of my husband and parents," said Nunez. "All the teachers work so hard that I want to share this with you."
Teachers are what make the world turn because without them our kids would not survive, remarked Jesse Sanchez principal of Brawley Union High School. "If there ever was a teacher born to the profession, it's Jessica Aceves," said Sanchez, introducing the second recipient.
Aceves confided she felt blessed yet undeserving. "It's a challenge but it takes a village to educate kids," said Aceves. "I can't admire our feeder schools enough and I know these kids will flourish and make an impact on our community."
Annalisa Burgos, principal of Sacred Heart School said of the third honoree, Margarita Garcia, she is loved by past and current students and she is a woman of faith who teaches by example. Garcia, who has taught 20 years began instructing pre-school students when she was still in high school.
"I want to thank the teachers, my principal and my parents for all the support they gave me," said Garcia. "I enjoy children and always loved teaching kindergarten."
Staff Writer William Roller can be reached at wroller@ivpressonline.com or 760-337-3452.