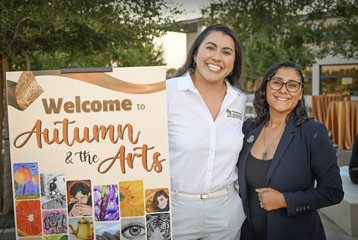 Imperial Valley Students Shine During Autumn & the Arts
Sold Out ICOE Foundation Fundraiser Celebrated Youth Achievements Through the Arts While Helping Earn Them Scholarships From Auction Proceeds.
From velvety pastels and articulate acrylics, to digital art, ceramics and more, the Imperial County Office of Education foundation's Autumn and the Arts fundraiser put young, local talent on display to a sold-out room on Thursday, Oct. 5 in El Centro.
One hundred percent of the proceeds from both the silent and live auctions were returned to the creators of each piece in the form of a scholarship, which has led to several success stories in the past. "It's really just a way to support them in their pursuit of art," Imperial County Superintendent of Schools and the evening's auctioneer, Dr. Todd Finnell.

Finnell announced prior to bidding that ICOE is proud to be launching an E-Sports competition for its students in 2024. As competitive gaming is featured in some high schools already, the ICOE Foundation for Education believes the rapidly growing niche interest should be available in Valley middle and elementary schools as well. "It's about fostering problem-solving, team-building, opportunities …" Finnell said, piggybacking off the topic of creative approaches to learning such as the inaugural art competition earlier this year.
First up for bid was a 3-D mosaic sculpture of a tortoise titled "Speedy Shelley," created and donated by an afterschool program at Sunflower Elementary in El Centro. The weighty piece featured tastefully placed colored tiles and a lifelike shell pattern fashioned from bright green pieces. Several rounds of intense bidding ensued, with the audience clamoring at each increase until the culmination of bidding, with the piece selling for $1,000 to Bari Smith Bean of BHE Renewables.

Andrade's digital art piece, "The Language Barrier," depicted a narrative scene regarding a common phenomenon for modern Hispanic and Latinx youths. The artwork featured a young girl situated between two potted plants, sitting in her aesthetically lit bedroom. While the pot labeled "English" holds a thriving plant with leaves so abundant they spread out of frame, another to her left labeled "Spanish" sits unattended and dying. "It's clear that she wants to help the Spanish plant grow, but something is holding her back," wrote the young artist in her description. The relatable piece piqued the interest of several bidders, and ultimately sold to an admirer for $700.
A set of three artworks sat roped off on the far side of the room, with the student artists opting not to donate and sell their pieces. Student artist, recent Brawley Union High School graduate and ICOE volunteer Alejandro Mendez was in attendance this evening aiding with the event and spoke of his jaw-dropping, large-scale soft pastel pieces. Aided by art teacher Mr. Lopez, he was able to challenge himself to go all in on the medium. "It was a lot of strategizing because it was my first time using it," Mendez said, noting that he had been making art since he was a child and was familiar at least with "the fundamentals."

Mendez is studying Digital Production and Design at Imperial Valley College and his dream is to one day work for a big name animation studio like Disney-Pixar. "However, I've also been thinking of maybe being a teacher as well," said Mendez, an AmeriCorps participant.

The teachers behind the many young artists' success stories rose for applause at the end of ICOE's successful fall fundraiser when they were recognized by the evening's host. One such teacher, Miriam Marcuson, said her students are most excited that the money goes back to the artist who created it, among other things. "They're excited that (their art) is going to different homes. You know, that's the dream of every artist, to have your art shown and to also help other students like them," said Marcuson, ceramics teacher for Wilson Junior High in El Centro. "They're very proud."
Two of her students took first and third place in the sculpture category, and another took home the Overall Junior Division for Drawing for her near photographic rendition of a human eye. Budding talent such as this abounded as attendees mingled among the artwork set to live music that served as a visual reminder of the importance of art as a means of tapping into students' highest potential.
Article by Richard Montenegro Brown, Holtville Tribune
Read article...
---