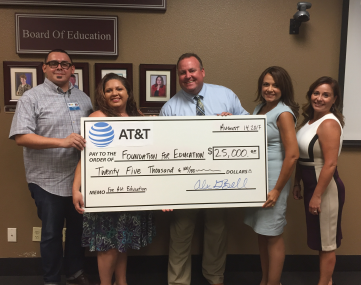 El Centro - The Foundation for Education, ICOE's non-profit auxiliary organization, recently received a donation of $25,000 from AT&T.  The donation was a result of AT&T's interest in partnering with innovative programs to assist educational programs targeting students who come from disadvantaged backgrounds such as English learners and the economically disadvantaged.  All of the funds will go to support Career and Technical Education programs at ICOE's Alternative Education program in Imperial County.  
On hand for the check presentation ceremony were Mark Ramirez, ICOE Board of Trustee and frequent volunteer for ICOE's CTE Medical Terminology Pathway.  Roxine Zamora, one of the CTE Instructors; Director of Development Todd Evangelist; Mona Vitela the Senior Director of Alternative Education and Principal, Keila Rodriguez. 
The Foundation for Education's mission is to develop funding, notably charitable gifts, that directly impact Imperial County students - such as those at ICOE's Valley Academy an alternative education program with an enrollment of over 200 students county-wide.