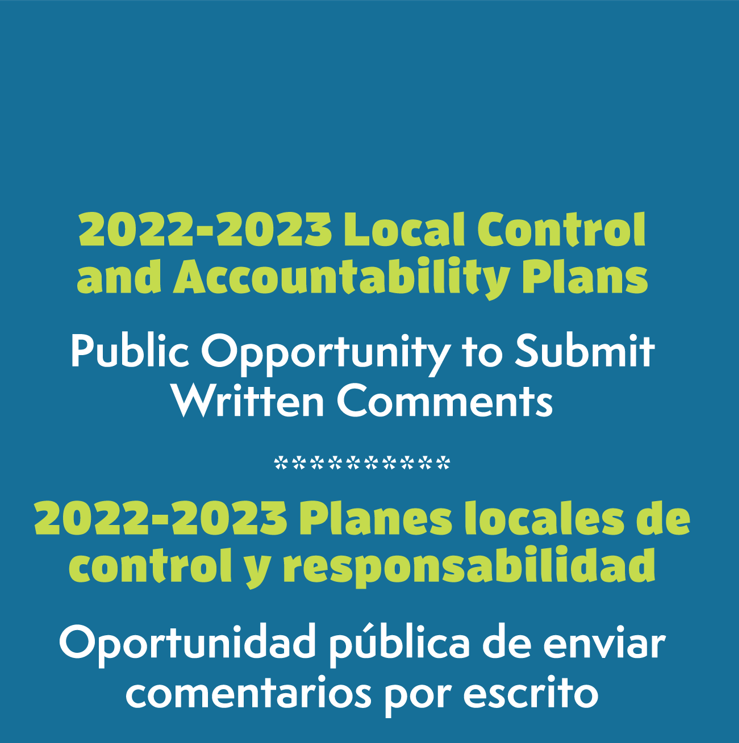 2022-2023 Local Control and Accountability Plans
Public Opportunity to Submit Written Comments
Here are ICOE's and Imperial Pathways Charter School's LCAPs
The Public Hearing for these LCAPs will be Monday, June 13th, 2022. These plans will be up for adoption on Monday, June 27th, 2022.
If you would like to submit written comments on either of these LCAPs, please email your comments to lcap@icoe.org. Thank you.
NOTE: As per Ed Code 52062(a)(3), The superintendent of the school district shall notify members of the public of the opportunity to submit written comments regarding the specific actions and expenditures proposed to be included in the local control and accountability plan or annual update to the local control and accountability plan, using the most efficient method of notification possible.
----------------------------------------------------------------------------------------------------------
2022-2023 Planes locales de control y responsabilidad
Oportunidad pública de enviar comentarios por escrito
Los siguientes enlaces pertenecen a los LCAP de ICOE e Imperial Pathways Charter School
La audiencia pública para estos LCAP será el lunes 13 de junio de 2022. Estos planes serán adoptados el lunes 27 de junio de 2022.
Si desea enviar comentarios por escrito sobre cualquiera de estos LCAP, envíe sus comentarios por correo electrónico a lcap@icoe.org. Gracias.
NOTA: De acuerdo con el Código de Educación 52062 (a) (3), el superintendente del distrito escolar notificará a los miembros del público la oportunidad de presentar comentarios por escrito con respecto a las acciones y gastos específicos propuestos para ser incluidos en el plan de control y rendición de cuentas local o actualización anual del plan de control y rendición de cuentas local, utilizando el método de notificación más eficiente posible.