The Community Advisory Committee (CAC) gives families an opportunity to share information and to support each other in their efforts as parents and educators of children with special needs. The CAC educates parents and increases parental awareness of special education programs, related services, community resources, and educational issues. The purpose of the CAC is to promote quality educational programs and services for individuals with disabilities and their families. The CAC is a local committee composed of parents, educators and agency partners who are involved with special education. The CAC is a participant in the development, amendment, and review of the Local Plan for Special Education.
Vision
Encourage parents to actively participate in becoming knowledgeable, empowered, and effective partners in the development and implementation of learning experiences for students with exceptional needs.
Mission
The mission defines CAC's purpose, special qualities, and establishes overall direction
Update current information in a timely manner
Educate parents
Develop a communication structure to inform parents
Provide information on available support groups
Provide support to parents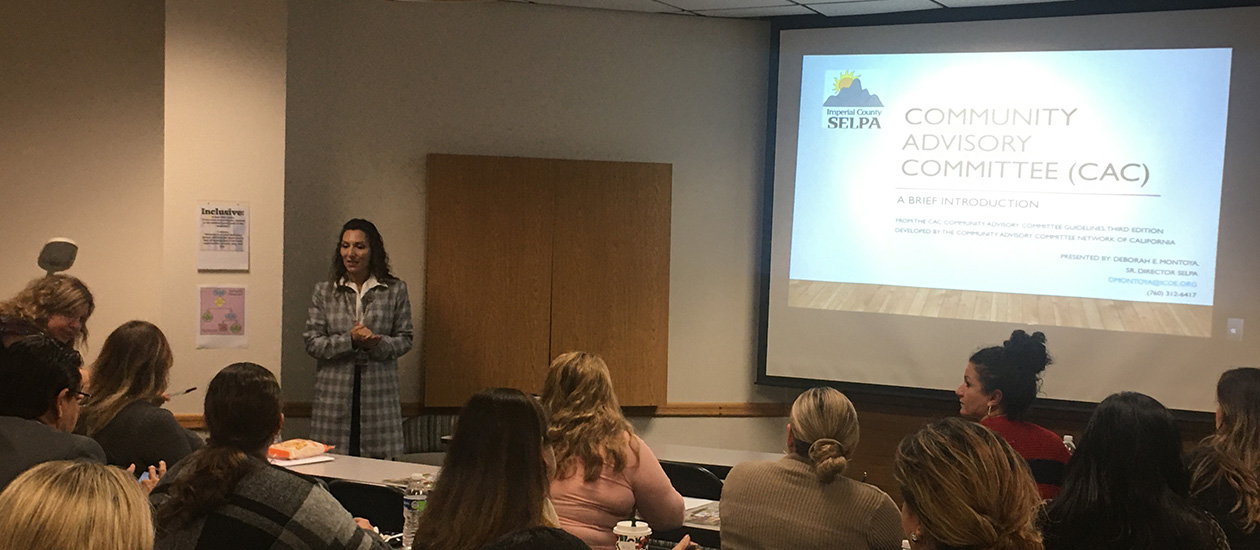 Goals
The CAC works with families to:
Provide a support group for parents and students
Provide an opportunity to talk with professionals who work with children with special needs
Increase awareness of available service options
Increase awareness of the importance of regular school attendance
Encourage community involvement in the development and review of the local plan for special education
Provide parent education
Support activities on behalf of children with special needs
Provide an open forum for discussion, committee reports, and guest speakers through CAC meetings
Meetings 2021-22
All meetings are scheduled to begin promptly at 5:30 pm to 7:00 pm on the scheduled days:
November 18, 2021 (In-Person & Via Zoom)*
January 20, 2022 (In-Person)
February 17, 2022 (In-Person)
April 28, 2028 (In-Person)
Farrar Leadership Center (FLC - A)
Imperial County Office of Education
1398 Sperber Road, Building C
El Centro, CA 92243
Please call (760) 312-6417 for more details.