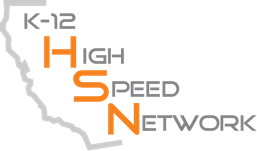 K12HSN is a state program funded by the California Department of Education. The California Department of Education competitively selected the Imperial County Office of Education (ICOE) as the Lead Education Agency (LEA) and manager of the K-12 High Speed Network program.
K12HSN provides the California K-12 community with:
Network Connectivity, Internet Services,
Teaching and Learning Application Coordination,
and Videoconferencing Coordination and Support.
The mission of the California K-12 High Speed Network is to enable educators, students and staff across the state to have access to reliable high speed network which has the capacity to deliver high quality online resources to support teaching and learning and promote academic achievement.
K12HSN administers K-12's participation in the California Research and Education Network (CalREN). CalREN is the high-speed, high-bandwidth statewide network of 14 Hub Sites and circuits linking to 86 K-12 Node Sites, 11 UC Node Sites, 24 CSU Node Sites, 111 community college Node Sites, as well as 6 Node Sites serving the three participating private universities. CalREN is also linked to the national Internet2 network forming an advanced state and national "Intranet" for educational use.
Backbone services are provided by the Corporation for Education Networking Initiatives in California (CENIC).
For more information, visit www.k12hsn.org