---
New Alternate ELPAC Video for Parents!
The new, informative video "Introduction to the Alternate ELPAC for Parents" explains the purpose of the Alternate ELPAC, who takes this test, how students can use their preferred communication mode to respond to the questions, and more. This video, approximately nine minutes in length, can be recommended to parents and guardians who want to understand more about the Alternate ELPAC.
The Spanish version is coming soon!
---
Newly Updated! California Assessment Accessibility Resources Matrix
The California Assessment Accessibility Resources Matrix (Accessibility Matrix) displays the embedded and non-embedded universal tools, designated supports, and accommodations (UDAs) allowed as part of the California Assessment of Student Performance and Progress (CAASPP) and English Language Proficiency Assessments for California (ELPAC) Systems for 2020–21.
ELPAC Accessibility Resources Video
California Assessment Accessibility Matrix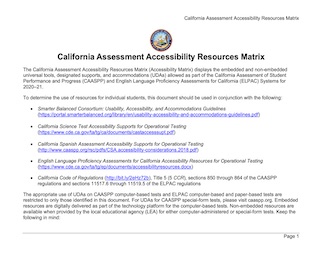 ELPAC Practice Tests
Alternate ELPAC
ELPAC Student Accessibility Resources
---
Ventura County Comprehensive Alternate Language Proficiency Survey (VCCALPS) for students with Moderate to Severe Disabilities
ELPAC Accessibility Resources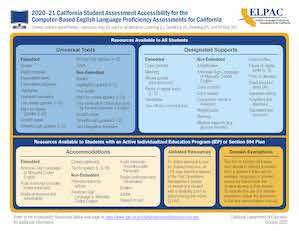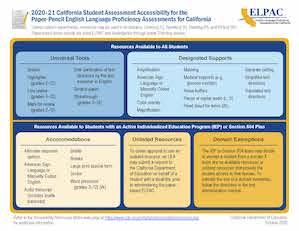 ELPAC Home
ELPAC Administration Student Accessibility Checklist
ELPAC Administration Guidance and Governing Definitions for Student Accessibility Discussions
---
CA Department of Education, ELPAC Student Accessibility and Test Settings Resources
---