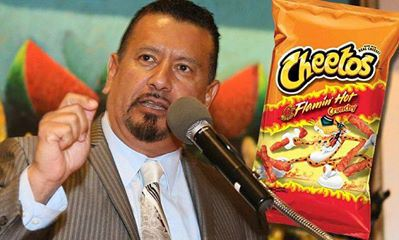 The speaker list for ICOE's upcoming English Language Learner Institute promises to be Flamin' Hot this year - thanks to Richard Montañez who is just one of the keynote speakers.  More information about the ELL Institute can be found on the ICOE.org website, but the dates are January 17-18 and it's almost sold-out, so if you're an educator and would like to attend register here.
Richard Montañez leads Multicultural Sales & Community Promotions across PepsiCo's North American divisions, leveraging best practices internally and externally to develop community partnerships. Throughout his career Richard has worked in various assignments and roles across all PepsiCo division and functions.
Richard started his PepsiCo career at Frito-Lay in 1976 as a janitor in its Rancho Cucamonga plant. He is recognized as the creator of the Flamin' Hot line of products including Flamin' Hot Cheetos, which influenced future ethnic products and the first Frito-Lay Hispanic marketing team. In 1990 Richard helped write and launch the Continuous Improvement Initiative. He was instrumental in creating the first operation cost improvement team. In addition, Richard helped influence Hispanic products and marketing promotions for KFC and Taco Bell.
Richard is known for his visionary leadership and ability to develop new systems and products. He sits on numerous non-profit boards, and was appointed to serve on the California State Workforce Investment Board. He was recruited to the state board for his business experience in creating jobs and building training systems.