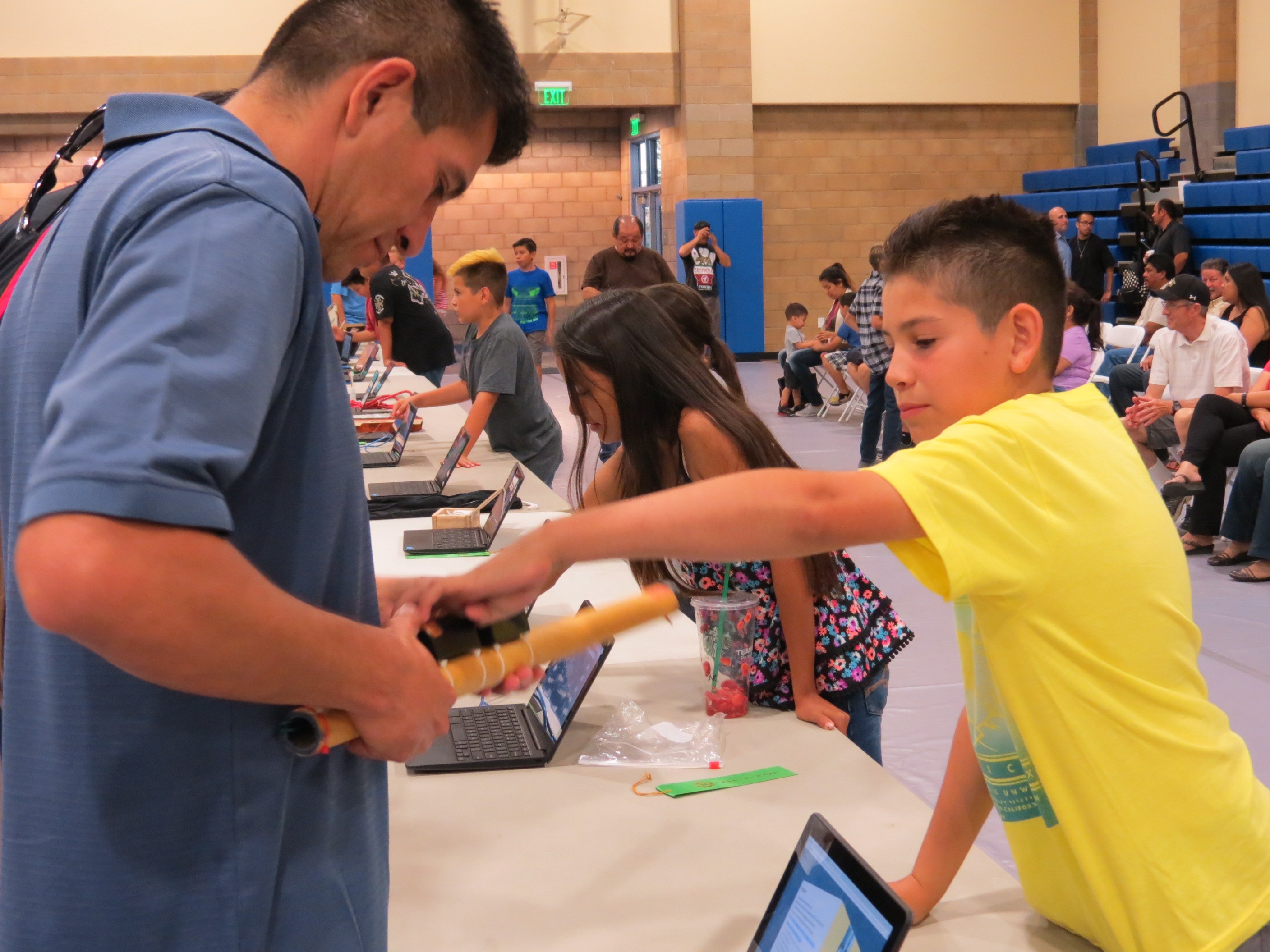 (via The Desert Review)
Brawley — Myron D. Witter fifth graders held their first Science, Technology, Engineering, and Math (STEM) fair Thursday evening in the Barbara Worth Junior High gym to finish off three months of hard work and fun.
The gym was filled with projects from 90 fifth grade students in seven categories ranging from physical, biological, environmental, and more.
In February, students were assigned a project to find a real world problem they wanted to work with, then come up with a solution to solve it.  Some found their way into traditional science fair projects like baking soda volcanos or research in biological and physical science experiments.  Others took this as a chance to solve a school or social problem, such as low attendance numbers, or research on other social issues.
Awards were given out to the first, second, and third place winners in each category along with an overall winner of the STEM fair.
According to Kelley Rodriguez, the fifth grade teacher who founded the event, the projects encouraged the students to think critically about what problems they were trying to solve. Despite all of the work that had to go into their STEM projects, the students were able to have fun with what they put together.
"This needs to be fun," said Rodriguez. "We gave them three months to have fun. Even students who were real hesitant, really pulled through."
One of the largest benefits was teaching the students to think critically.  All researched different topics and put together their projects based on the information they dug up.  In doing so, it gave the students a better understanding of what they were researching and the" four Cs": critical thinking, communication, collaboration, and creativity.
"I did learn a lot," said Nathan Carpio, first place winner of the environmental science category who researched how to solve global warming. "I thought climate change wasn't bad, but it really is.  I'm glad I did this."
One of the third place winners, Lucas Marmolejo, picked his subject from the goodness of his heart for his grandfather. "My grandfather lost his key and I want to make an invention to help him," said Marmolejo.
Pablo Torrez's first place project involved turbines and researching how the power of the wind can be used for electricity.  It has given him a better appreciation of the wind turbines.
"It makes me feel better about science and about the turbines on the way to San Diego, because I can tell people how they work now," said Torrez.
The overall winner was Kathryn Caswell's parking problem solving project, in which she designed a way to solve the problems Witter School has with traffic around K Street.  "I just thought of all the traffic problems there was and all the police that come," said Caswell after the awards. "I didn't think I would get anything!"
Rodriguez and her colleagues were inspired to put together the project after attending the Google Summit in March, a conference and workshop designed to show what technologies and teaching techniques can be used in the class room to enrich student learning experiences.
Witter teachers and students alike commented that they hope this is one school tradition they will keep running for years to come.
-Author, Katherine Ramos